Chief Executive of Guyana Water Incorporated (GWI) Karan Singh and Head of Procurement Dhani Narine were yesterday given marching orders by the company's board.
This move comes after both men were sent on special leave as the utility's board investigated allegations about mismanagement in the company.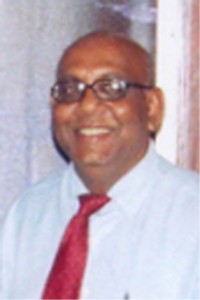 After meeting with the board yesterday, the men were informed that their services had been terminated. Stabroek News understands that four other staff members that were sent on leave are expected to resume duty when this leave expires.
Meanwhile, Stabroek News understands that an interim management team headed by Director of Operations Yuri Chandisingh has been appointed to manage the utility company.
Last Monday, Singh was sent on at least three weeks leave so as to permit the board to examine the allegations of mismanagement. The move by the GWI Board was in response to a report prepared by the internal auditor which said that Singh had overreached his authority and that procurement rules were breached.
Following this decision, Singh said he was told that his being sent on leave was just procedural and he was not being accused of anything else. He told this newspaper last Tuesday that he had only returned to work from vacation last Monday and was told at a board meeting that he should proceed on leave to facilitate the probe. He said he was quite surprised at this and did not believe this was warranted.
Narine, meanwhile, was sent home on March 18, to facilitate a probe in relation to kickbacks.  He is believed to have been involved in fraudulent activity, which would have seen various contractors being given preferential treatment when it came to the awarding of GWI contracts.
For Singh, this is the latest twist in what has been a tumultuous career at the utility company.
While at the previous Guyana Water Authority and then at GWI he had also encountered troubled waters with ministers Harripersaud Nokta and Shaik Baksh.
Singh had departed GWI to pave the way for a five-year UK-funded management contract for the utility. The Severn Trent contract was ended early in the fifth year and Singh, who had been in charge of the Local Organising Committee for the Cricket World Cup, was later chosen again for the post of GWI head.
This development prompted an unusual statement on September 25, 2007 from three donor agencies to the water sector: the Inter-American Development Bank, the UK's Department for International Development and the World Bank saying, "Although we welcome the move to appoint a Managing Director for GWI, we neither endorsed nor contested this candidate, as these matters are the responsibility of the Board of GWI and the Government of Guyana."
Around the Web