Romel Simon was yesterday sentenced to four years imprisonment for killing another man during a birthday party.
In 2005, Simon, 29, was called out of his bed to make peace between Keith Nobrega and another man. He ended up fatally stabbing Nobrega in the head after he was attacked.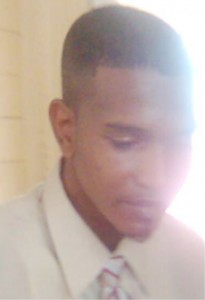 The single stab wound that Simon inflicted on Nobrega was among the factors Justice Brassington Reynolds considered before passing judgment in the High Court yesterday. He also considered the fact that the fatal wound was one of two operating causes in Nobrega's death; the post-mortem report had also cited an acute gastric stomach problem.
Simon was indicted for murder, but pleaded guilty to the lesser count of manslaughter before the start of his trial. The prosecution, led by state counsel, Fabayo Azore accepted the manslaughter plea and sentencing was deferred to yesterday.
Justice Reynolds said too that he considered the four years Simon spent incarcerated since the incident and his apparent remorse, but he reprimanded Simon for his actions, emphasizing that there are rules of engagement when resolving disputes including house brawls.  "I am sorry for what happened, my honour. I didn't mean to kill Keith, we were good friends," Simon said from the dock. Prior to his plea, his mother begged the judge to be lenient with him saying that he was her only son.
Defence counsel Kim Kyte-John also begged for mercy in a mitigation plea that portrayed Simon as a young man who made one fatal mistake by "firing a juk in the dark." She said that Simon was attacked with a broken bottle and injured by the deceased, while adding that her client's actions were not excessive in the circumstances.
The facts of the case indicated that there was an argument between Nobrega and another man, Shawn Daniels, at the home that Simon shared with his reputed wife and her children. Simon was called to quell the disturbance and had managed to separate the two but Nobrega lashed out by breaking a bottle and slashing Simon on the hand. He then attempted to flee the scene.
Simon chased Nobrega and caught him at the fence where he stabbed him in the right side of his head with a knife. Nobrega was admitted the hospital in a critical condition and died a few days later.
Probation and Social Services Officer Iris King read a probation report in court yesterday, revealing that Simon had had a difficult childhood.
His father threw him out of the family home at age 16 years after he intervened in a domestic dispute between his parents.
The report said that Simon went to live at a friend, but subsequently moved to the home of his reputed wife were he was offered lodging. He subsequently became involved with the woman, who was 22 years his senior, and worked as a mechanic to maintain his new family, which included several children.
Justice Reynolds had also directed focus to Simon's home environment prior to sentencing him, calling it unhealthy. He said that the home had too many persons occupying the same space and urged Simon to consider different arrangements after his release from prison.
According to the probation report, Simon was living with his reputed wife, her children and a common-law spouse of one of her children.
Around the Web