Retired Chancellor Kenneth George who has been hailed as one of the country's preeminent jurists, passed away at the St Joseph Mercy Hospital yesterday. He was 79 years old and had been ill for some time.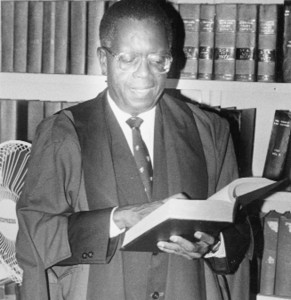 Justice George, who had a long and distinguished legal career, was regarded as one of the foremost legal minds in the local civil law. His judgments, a fair collection, today serve as guiding principles among sitting judges in the Appeal Court as well as the High Court.
In 2002, he prepared the first draft of amended rules of the High Court, and was widely credited for the foremost role he played in preparing the rules of the court.
Referred to as 'King George' by many who worked with him throughout his eminent career, Justice George was known as a fierce protector of the integrity of the legal profession since his earlier days as a registrar at the Supreme Court.
He was appointed Chief Justice in 1981 and then Chancellor of the Judiciary in 1988, a position he held up until 1995 when he retired, though he continued to serve as a mentor in the profession. He also worked as a consultant in the chambers of de Caires, Fitzpatrick and Karran prior to falling ill some time ago.
He was also President of the Courts of Appeal in the Bahamas and in Belize between 1996 and 2000.
He also held the posts of chairman of the Tax Reform Commission (1969); chairman of the Judicial Service Commission; chairman of the Advisory Council for the Honours of Guyana and chairman of the Rules Committee of the Supreme Court, among other key chair positions.
He was bestowed with national awards: the Cacique Crown of Honour (CCH) and later, the Order of Roraima (OR).
Born in Canje, Berbice in 1930, George pursued a legal career and earned his BA in 1951 in London, and later his LLB also in London in 1954. He worked as private practitioner from the period 1955-1958 before he was appointed a magistrate in 1958.
He was Crown Counsel and Assistant Legal Draftsman from 1959-1961; Senior Crown Counsel from 1961-1963; Registrar in 1964-1967; Puisne Judge from 1967-1977 and Justice of Appeal from 1977-1981 before being appointed Chief Justice and subsequently, Chancellor.
Chief Justice (ag) Ian Chang recalls George as an astute legal mind that has shaped the law here by contributing a considerable amount of important decisions, particularly in the area of civil law. He noted too, the immense contributions he made in preparing the Rules of the High Court.
Justice Chang also remembers his sternness, but pointed out that "his bark was worse than his bite". He said that the civil law judgments he handed down were among the most influential in the profession.
Further, he noted that many judges currently on the bench are guided by the decisions of the former chancellor; decisions which he referred to as "successful".
Senior Counsel Miles Fitzpatrick yesterday referred to Justice George as one of a handful of great Guyanese judges he had encountered in his practice since 1957. He also named JOF Haynes, Kenneth Stoby, Aubrey Fraser and the Luckhoos (all three of them), noting that they ensured Guyana's judicial quality at the top was equal to any in the region.
Reminiscing on George's career as a judge, Fitzpatrick said that did he not suffer fools (or unprepared lawyers) easily, noting that he wore his judicial heart on his sleeve, and "you always knew what he was thinking.
"But with sound argument you could always persuade him to change his mind.  In other words, he was my kind of judge; nothing underhand, no pretence, no cunning.  Just a solid, open [if slightly irascible] presence," he added.
He said that George gave many decisions that enhanced local common law, but recalled his fondest memory of him being when as Chancellor, he had led a bench of three judges including him (for the only time) in the case of Yasseen and Thomas v. the Attorney General in the Court of Appeal.  According to Fitzpatrick, it was an experience he will never forget. He added that the former chancellor was truly a pillar to lean on.
Sometime after he retired, Fitzpatrick recalled, the former chancellor was asked to join the Chambers of de Caires, Fitzpatrick and Karran, as a consultant. He said George's door was always open with his vast experience and common sense available to the lawyers in the building.  But he pointed out that even then he was not well saying that he now has gone to his rest.
"I know his later years were brightened by the decision of his daughter Roxanne to go on the bench, where she has proven to be 'a chip off the old block'," he added.
Attorney-at-law Mortimer Codette expressed sorrow at the retired chancellor's passing saying that he had grown close to him while working as a prosecutor. He paid tribute to him for "listening to arguments keenly" and handing down key judgments.
Codette said Justice George was an inspiration to young practitioners and he opined that the profession is poorer for having lost such an excellent legal mind. He added that George has left a daughter who has his traits, which "is a good thing".
Kenneth Montague George is survived by his wife Hazel, children Justice Roxanne George, Dr Kenneth George, Andrea Harrowven and Michael George.
Around the Web