-but wants no external management
The main opposition PNCR on Friday reacted with alarm to the threat to the £3 million security sector reform plan posed by disagreements between the Guyana and UK governments, but a lead spokesman said it would not support external management of the process.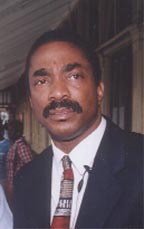 At the PNCR's weekly press briefing, party vice-chairman Basil Williams said "We can't sign on to any plan which is externally managed."
Admitting that all the details of the disagreement were not known, he, however, added that the differences with the British Government can be composed. "Cool heads and logical minds can do this," he said, while noting that once differences are ironed out the Bharrat Jagdeo administration "must move with energy to secure the funding for the [plan] and ensure its smooth implementation."
At the start of the week British High Commissioner Fraser Wheeler revealed his frustration with the delay in implementation of the reform plan, saying some persons in government were quibbling about administrative details.
However, Head of the Presidential Secretariat Dr Roger Luncheon, the government's lead negotiator in the process, cited disagreement over the UK's proposals for implementing the reform plan, which he said disregarded an agreement for local ownership of the process. As a result, he affirmed that the government is not prepared to cede an inch of its sovereignty.
He described the reform plan as being important for the reform and strengthening of the security sector, which he said is a vital requirement in the fight against crime. "A secure environment will ensure protection for our citizens and help in the creation of an environment which can attract legitimate investors," he stated, while urging that the government recognise the importance of implementing the plan. "We are not amused by these games and are urging the government to take a serious approach to implementation of the plan," he added.
However, the British High Commission has reaffirmed that it is committed to "Guyana's national ownership" of the programme and to "build the capacity of national institutions to implement it. "We remain open and ready to discuss any issue in relation to the programme," it said in a brief statement on Wednesday.
An interim Memorandum of Understanding for the four-year £3 million (nearly $1 billion) Security Sector Reform Action Plan was signed between Guyana and the UK in August 2007.
AFC leader Raphael Trotman on Thursday said his party was "extremely disturbed" by the report of the government's unwillingness to proceed with joint implementation of the plan. It is reflective of a pattern by the Jagdeo administration of refusal to participate and implement whenever the need for comprehensive reform is identified within institutions that touch on governance, he said, accusing the government of frustrating the process to achieve its objective of ensuring minimal or no governance reforms.
Around the Web