An Albouystown youth was shot dead in the city by a private citizen just after midday yesterday while fleeing the scene of a robbery he had committed.
Gavin Paul, 20, of Hill Street, Albouystown, eventually bled to death on the pavement in Robb Street after sustaining a single gunshot wound. He was shot in the back and reports are that the bullet may have hit a vital organ.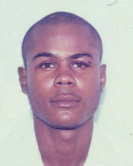 The man who shot Paul had joined in a chase to apprehend him minutes after Paul snatched a woman's chain at Alexander Street and North Road. Paul was also chased by another man armed with a cutlass and two other persons.
Reports are that Paul ran into North Road and darted through several yards jumping fences and entered the alley between North Road and Robb Street, followed by the group. He was reportedly shot in the alley, but Paul still attempted to escape. He exited the alley, bleeding and ran into Robb Street with the group behind him before he finally collapsed in front of the Courtyard Mall.
"He is a thief yes, but he didn't had to shoot he to kill he," a man declared at the scene.
Bystanders said Paul was lying on the pavement bleeding profusely from the wound and crying out in pain. He was clad only in his underwear, prompting questions about what had happened to his clothes.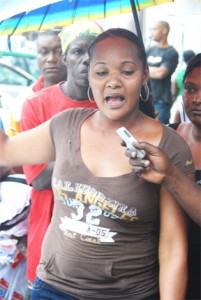 As persons grilled him on the robbery, he was heard saying, "She get back she chain. She get back she chain." It then started to rain and he curled up trying to cover his wound. His blood washed into the drain nearby and he continued crying out for pain.
The police in a release yesterday said that they are investigating the shooting. They reported the robbery and said that Paul was shot while being pursued by public-spirited citizens.
Persons present at the time when Paul was crying out on the pavement were said to be undecided as to how to treat him. Some persons sympathized saying that he was human and, "needed immediate assistance to the hospital", but others condemned him over the robbery and said that he had to remain on the pavement until the police arrived. A City Constable on the scene said he had alerted the police and they were on their way. The police arrived some 15 minutes later.
Stabroek News spoke with the man armed with the cutlass who had been chasing Paul. He declined to give his name but related that he was in his yard doing some work when Paul jumped over his fence and attempted to hide.
"I look out and see the young woman on the road hollering thief and I reacted right away because I know her. I grabbed the cutlass and started to chase him," the man said.
He said he was unable to keep up as Paul outran him, but a few persons on the road decided to join in the chase. He would not comment on the shooting except to say that a man joined them and he later shot Paul.
Paul was on the pavement crying out for pain and moaning before he breathed his last breath. He reportedly died before the police arrived on the scene.
The victim, Alana Butcher arrived on the scene while Paul was still alive and she later related what had happened. The woman said she was walking along North Road when he accosted her from behind and said, "You wearing all this gold and walking alone".
She said she turned around and faced Paul, who immediately grabbed her gold chain. Butcher said she refused to give up the chain without a fight and she snatched Paul. She said they fought for a short while and she ended up ripping his jersey off. When the jersey came off, Paul slipped away from her and ran away.
"I wasn't sure where he ran all I know is that he went away with my chain and I still don't know where it is," a distressed Butcher said.
'Fuh a chain?'
Paul's lifeless body on the pavement triggered a massive row between persons gathered at the scene. Many argued that he should have been transported to the hospital and not left to die in the rain on the pavement while others said that he chose that path.
When his relatives arrived on the scene, his mother, Winola Baptiste, broke down crying and his relatives immediately questioned why he was left on the pavement.  A relative angrily asked, "why kill he fuh a chain?" and later declared that Paul had "no reason to thief".
A sister told Stabroek News that Paul was not employed, but that her mother gave him everything he wanted. She said that he had returned from Saint Lucia just a few weeks ago and was planning to go back. She later showed this newspaper his passport with the immigration stamps.
His mother was emotional and barely managed to say that she has no answers as to why he would have committed the crime.
Relatives demanded to see the shooter, but the man had disappeared from the scene.
Nearly two hours later, Paul's body was removed by Lyken's Funeral Home. This enraged his relatives since they felt that he should have been taken to the hospital earlier.
Around the Web