By Oluatoyin Alleyne
It came as no big surprise when just before 11 pm on Saturday 19-year-old Jenel Cox was crowned Miss Guyana Universe 2009 at the National Cultural Centre,  eclipsing 14 other young women vying for the coveted crown.
Cox, who oozed confidence from the moment she introduced herself on stage, looked stunning in a black gown which was accentuated with a silver-sequined bodice and a train. Her gown was definitely one of the best two of the night and as she flaunted it on stage many were heard questioning who the designer was.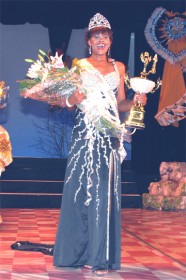 Cox later told Stabroek News that the dress was in fact ordered online – smart choice when one considers that some of her competitors were forced to model disastrous gowns.
Cox, who sparked much debate after her statement in the intelligence segment that she agreed that criminals should be shot when they attempt to escape, had the support of a significant portion of the almost packed cultural centre from the point she introduced herself on stage. When she was finally named the winner the reception was deafening as patrons stood on their feet and waved and some even jumped up and down as the jubilation continued for at least five minutes.
Minutes after the crown was placed on her head, Cox told reporters that she worked hard and as such was confident about winning while promising that a lot can be expected from her in the future.
Cox, who was sponsored by Unicom, won herself $2.5 million dollars in gifts and prizes with the most important one being her representing Guyana at the Miss Universe Pageant in The Bahamas on August 23. It will be an uphill battle for her – none of her predecessors has even made it into the finals – but the boldness and confidence she exudes could be a plus in her favour. She has attitude and she will need it when she attempts to really do Guyana proud in The Bahamas.
Cox's real competition came from first runner-up Rachael Bakker who on Saturday night admitted that she was very disappointed that it wasn't she who was wearing the crown.  "I am disappointed and I know I did not fall down in the intelligence segment," she told Stabroek News, adding that the judges' decision was final.
Rounding out the top five was second runner-up Lucria Rambalak, third-runner-up Janella Lewis and fourth runner-up Nandani Seecharan.
None of the top five nailed the final question, a relatively easy one to decide the winner. The question was 'In your opinion what is the role of a woman in society?'
When the question was posed,  Cox, an aspiring criminal lawyer, told host Stan Gouveia, among other things, the role of a woman is to set an example for "everyone around" and according to her women are powerful "they have strength and they represent strength." It was certainly not the best of answers. The judges – there were eight of them – must have had a difficult task and at the end of the day may have considered the contestant's overall performance in the contest.
Bakker, must have done very well in the swimsuit and intelligence segment to make it the final five as her evening gown would have set her back. She said she believed that a woman's role is to stand out and be the best she can be and also to be productive. Women, she said, socially uplift others and assist young women to grow up with confidence and poise. This newspaper was unable to hear a part of Bakker's answer because of the noise from the audience who felt that the nervous-sounding contestant was talking too much.
Bakker, a final year International Relations student at the University of Guyana who was sponsored by Limacol should have refused to wear the grown designed for her. The outfit consisted of a bustier with gold-coloured looking strings hanging and a flowing white skirt.
Rambalak, sponsored by KRS Construction Company, was the contestant with one of the best gowns of the night. Her strapless, sequined, body-hugging blue number was designed by her sister Chandini Rambalak-Ramnarain. In answering her question Rambalak, who was also a crowd favourite, said that the role of a woman is to be a success at everything she wants in life.   Rambalak was also adjudged the GT&T Cellink People's Choice and also won the Miss Photogenic prize.
Lewis, who could be described as the dark horse as no one really saw her making it  into the top five, told the audience that a woman's role is to give guidance and that a "woman is the mother  of the nation."
The GT&T-sponsored delegate, whose strapless gold dress accentuated her well- toned body that saw her capturing the Miss Body Beautiful/fitness prize, also said a woman's role is to give guidance so that "everything can go in the right way."
Seecharran, who was sponsored by R&S Mining, said a woman's role is to be strong, be positive and know what she is about and "to be an ambassador for all women."
While the pageant got off to a late start, surprisingly it finished very early and many in the audience would have left wishing for the scheduled second performance by Jamaican artiste Wayne Marshall whose electrifying outing had the crowd going.
Local songstress Jessica Xavier mesmerised the crowd with her two performances- she is certainly one to watch as she has a beautiful voice.
Host Gouveia and hostess Wanita Huburn certainly did not have any chemistry going on between them and their desultory performance made it feel as if you were swallowing dry bread. Their introduction of the contestants as they modelled their evening gowns just entailed them calling the girls' names – no attempt was even made at informing who designed the dresses. And Gouveia obviously has no idea about dressing for a pageant- his blue pants, black jacket, white shirt and a red tie really did not cut it.
The pageant could be best described as a boring affair, except for Marshall and Xavier who provided some excitement during their performances. The dance by the Apsara troupe certainly was not the "hot" number promised by the host.
And whoever designed the stage should not receive any payment because it lacked any inspiration. It is difficult to say what the four decorations really represented and the cheap vinolay on the flooring just did not cut it.
Around the Web