–Commonwealth Secretary General

Commonwealth Secretary-General Kamalesh Sharma says economies which are extremely reliant on one or two products will face obvious problems in an increasingly changing trade environment and he stressed that the way global trade is shifting it is difficult for small states to maintain one aspect of a trading arrangement.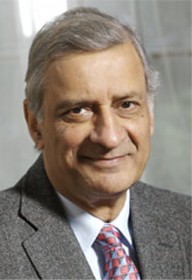 But he said that there is a way of resolving problems facing nations like Guyana that would have lost preferential treatment in accessing Europe's market following the end of the sugar protocol – a smooth transitional period.
Sharma, who was here last week on an official visit, told Stabroek News in an interview that a transitional period must be agreed in a way that it does not create pain for the exporting country. He continued that countries like Guyana must "get time, investment and support to ease off into a new situation".
"There is pain for countries that are over-dependent [on a product] but this can be converted to gain through sensible policies and some countries have consciously made this change recognising that if a particular aspect of trading is going against them another aspect might be of some use", Sharma stated.
He cited the island of Mauritius saying that the country developed from a monocrop economy, largely dependent on sugar, and has diversified its economic activities into textile and industry apparel, tourism and financial services. The country went from low income to middle income over a period of time and is now an investment hub, Sharma noted.
Sharma said that the interests of smaller states remain a key focus of the Commonwealth amid rising global power structures such as the G20 group that isolate the majority of states in the international system.
The role of the Commonwealth "is still relevant" the Secretary General said despite the increasing significance being attributed to groupings such as the G20. He questioned what the G20 can do which is in the interest of smaller states if the talks include solely the twenty most influential economies in the world.
Speaking to the question of the Commonwealth's relevance Sharma said that the political culture of the organization allows for an unusual freedom among states when issues are deliberated, adding that "this is the way we work".
He said that the Commonwealth was designed to offer countries [no matter the size] a forum where every country has equal time and a forum to raise any issue, but more importantly, he stated that they have from the beginning catered to the interests of smaller states.
Sharma gave an example of how the Commonwealth works saying that a few years ago Guyana's President Bharrat Jagdeo had made a connection between the environment and national wealth creation during a Commonwealth meeting and his initiative grew into a global idea. But prior to this, he said that former President Desmond Hoyte set a precedent in 1989 when he green-lighted the Iwokrama rainforest project.
"The Commonwealth works by consensus and is firm on the idea that a smaller country can be a global leader, just take Guyana for example, and only recently we had another example of smaller states leading the global discourse for reforming international financial institutions", Sharma added.
The Secretary General positioned the Commonwealth as being ahead of the global curve in terms of how it is structured and he declared that they have always been in the lead in pioneering innovative ideas whose worth was widely recognized. For this reason, he said that the Commonwealth is important, adding it introduced the idea that development cannot be achieved if there is an overhanging debt as was the case with many of its members including Guyana.
Non-polarity
The Secretary General said too that the Commonwealth is important and remains relevant because it advocates non-polarity, and does not view the world as being multi-polar as is widely argued today. By non-polarity he means a diffusion of power from one or two or even several states to dozens of states and non-state actors exercising various kinds of power.
Sharma questions whether multi-polarity is the leading factor in global relations today saying that he has never conformed fully to the idea of a bipolar world and or even a unipolar world, but he firmly believes in non-polarity.
"If everyone has to work together doesn't it make sense to say that it is a non-polar world, in this way you get away from the very old idea that the world is determined by power relationships", the Secretary General said.
He further explained non-polarity as "everyone getting into the definition of what it means to have a successful world", and he restated the point about the G20 group saying that as a multi-polar grouping its success can be questioned. He added that multi-polarity does not necessarily mean being in possession of the seeds of success.
"I wrote the G20 leaders [earlier this year] and questioned how 90 percent of the world's GDP is represented by the group yet 90 percent of the world's countries are isolated from the group", Sharma stated.
He added that it is the G20'S non-polarity and how wisely they can exhibit and display it which will be the litmus test of their success.

Skills training
Sharma underscored the importance of skills training saying that administrations need to consider the importance of having a crop of skilled personnel within that can support an investment decision.
He told Stabroek News that it makes a lot of sense to have an education system that gives an option allowing for skills development and offering persons an opportunity to decide on specialization.
The Secretary General said that the Commonwealth has figures for investment that have taken place in several countries, but noted that what they don't have are figures of investment that have not taken place "that could have taken place". He said that it is important for governments to understand that companies often look into the skills profile of a country before deciding on an investment.
While a large number of people with academic training is "alright" Sharma said that it is essential for a country to have a pool of skilled people who are available and who can support the investment decision.
Zimbabwe and Fiji
Commenting on the situation in Zimbabwe, he said that the African nation took a political decision to leave the Commonwealth in 2003 but pointed out that the organization remains deeply concerned for the people of Zimbabwe.
He said that Zimbabwe subscribes to the Harare Principles of the Commonwealth, which emphasize human rights and democracy and as result "has a responsibility that does not go away whether you are inside or outside the Commonwealth".
"…every single country neighbouring Zimbabwe has a concern which means that the Commonwealth also has concerns but I am certain that Zimbabwe will rejoin the Commonwealth, if they can take the political decision to leave it they can reverse that decision as well", Sharma added.
He said that his organisation welcomes the power sharing agreement between President Robert Mugabe and Opposition Leader now Prime Minister Morgan Tsvangirai and that they remain hopeful the agreement will translate into relief for the people of Zimbabwe as well as social and economic stability and advancement for the country.
Sharma said his organization is ready to help through civil society and in any other way "as soon as we receive a signal".
With respect to Fiji he said that things are moving in the opposite direction because of some of the decisions that have been taken by the current administration to derogate the constitution. He said too that many ad-hoc decisions that were also taken by the government as it relates to the judiciary, the media and public officers continue to concern the Commonwealth.
Sharma noted that what is happening in Fiji violates the principles that are embraced in the Commonwealth. He noted that Fiji is the only country that is on the agenda of the Commonwealth Ministerial Action Group (CMAG) which will meet later this month to decide on a way forward.
Fiji had been suspended from the Commonwealth Council of Nations following its fourth military coup in 2006. The island faces full suspension in the light of continuing refusals by the military backed administration of Commodore Frank Bainimarama to hold timely elections.
Sharma was India's High Commissioner to the United Kingdom before taking up the Commonwealth post. He took office on April 1, 2008.
Around the Web