– but concerns raised over placements

Novar Primary School at Mahaicony has topped Region Five at this year's National Grade Six Assessment (NGSA) with 14 students gaining over 500 and four being among the top 100 in the country.
The students who are elated at their success told this newspaper in an interview that they worked very hard to achieve the high marks and thanked their class teacher, Shamena Charran for her effort in ensuring that they did well.
They were also grateful to God, foremost, and said their parents, the head teacher and other teachers of the school, especially from Grades Five and Six.
Emerging as top student of the region and the school is Aanisah Bacchus, who aspires to become a doctor with 554 marks. She was mistakenly listed by the Ministry of Education as being a student of Augsburg Primary.
Copping the second position with 549 marks is Simeon Chester who wants to be general surgeon while the third spot went to an aspiring singer/airhostess, Calissa Bradford who scored 547 marks.
Devon Pierre, the shortest and most talkative of the lot, who placed fourth with 542 marks, has his mind set on becoming a software designer.
All of the students enjoy reading and Devon said he spends most of spare time reading almost "anything," from encyclopedia to books on science and mystery as well as novels.
Sharing the fifth spots for the school with 535 marks are Shaniece Wilson and Richardo Phillips while Shameeza Bacchus came next with a score of 533. They were followed by Jankie Dulcharran with 531, Bisham Bisnauth, 527, Crystal Madray, 523 and Jasper Wilson with 519 marks.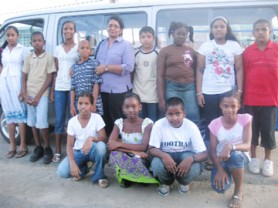 The other students who have performed well for the school are Karishma Sankar, Zeska Williams and Jagdesh Singh with 514, 513 and 511 marks respectively.
Class teacher, Shamee Charran told this newspaper she was "very proud"
and overjoyed at the students' good performance. She said she "worked very hard with them" so they could achieve the high grades and they worked "just as hard."
The students related that close to the exams they got home at around 6:30 pm from taking extra lessons at the teacher's house. They said too that they would spend until midnight doing homework and studying and would wake up at around 4 am to continue.
Meanwhile Chandini Singh emerged the top performer of the Lachmansingh Primary at Bush Lot, West Berbice with 530 marks. She was followed closely by Bhawani Ramdeo who scored 529.
Kareem Bacchus, Sudesh Jaipersaud and Ivor Franklin shared the third positions with 526 marks while Tishauna Miggins and Sasha Crawford came next with 523 and 520 respectively.
The students who love to read said they studied very hard and were very excited to be on top but felt they could have done better.
They thanked God for their success and were also grateful to their parents, headmistress of the school, Blanch Mc Pherson and teachers especially Constance Mc Calmont.
Chandini who enjoys reading mystery, religious and science books is very keen on becoming a scientist. She thanked Teacher Constance for her achievements and said her mother and another teacher at the school, Shanaz Sheriff also helped her a lot and contributed to her success.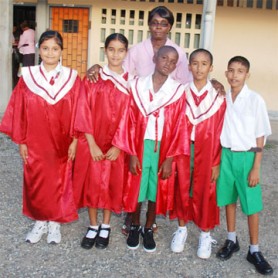 At the Cotton Tree Primary, Alaika Sulaman emerged as the top student with 533 marks. The second spot was copped by Fazina Kaleem with a big gap of 33 marks. They thanked their teachers especially "teacher Audrey and teacher Ravina who were both very helpful."
Alaika told this newspaper that "it took me a lot of hard work and studying to achieve my marks and I even thought I would have gotten higher marks but I am [nevertheless] satisfied with what I got."
Her advice to other students sitting the exam next year is to "study hard, pay attention in class and try your best and you would succeed."
Placements
In the meantime, while all of the students gaining over 514 marks have secured places at schools in Georgetown, the others have been awarded nearby schools. The Ministry of Education had said that it was trying to place the students in their "geographical areas".
However, although Fazina resides at Cotton Tree she was awarded the JC Chandisingh Secondary School on the Corentyne. Many other parents complained to this newspaper that the placements of students were not done in a fair manner.
Some parents felt that it was unreasonable that children who have gained lower marks than what their children scored have been placed at the top schools in Berbice such as the New Amsterdam Multi-Lateral.
They said that "the ministry trying to keep children from West Berbice at schools right over here but yet some children who din do so good get to go to multi and other school in New Amsterdam. Like they [the officials] don't know what they doing."
Regional Education Officer, Urlene Crandon told Stabroek News that she "has seen great improvement" in the region and that the results were heartening.
She was especially pleased with the performance of Novar Primary that got four students in the top 100 as well as De Hoop Primary which got one. According to her, students from schools at Mahaica and Mahaicony Creeks have also done well and have been placed at a secondary school.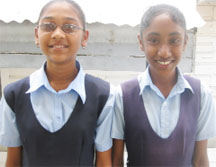 With regard to the placements, Crandon said that parents are not satisfied and that the department has been faced with a problem. She said parents have been visiting her to have their children transferred and some are even considering sending them to private schools.
She pointed out that their concerns were genuine and that she was "willing to do the inter-regional transfers." However, she said some parents want their children to be placed at schools that are overcrowded.
In the Central Corentyne area, some parents of children who wrote this year's examination expressed their frustration to Stabroek News. According to one parent, Judy Smartt, her daughter wrote the examination at Alness Primary school and was awarded Manchester Secondary school having amassed 415 marks. She felt her daughter deserves a place one of the top schools in the region.
Another parent, Jacquelyn Park, told this newspaper that her daughter received 435 marks and was also given a place at Manchester Secondary school, while children with far lower marks – as low as 130 and even 90 marks are attending the same school.
One parent Raywattie Seelochan, also of Alness village said that if her daughter with 405 marks will have to attend that school, then "me goh keep am home." Parents in general are not satisfied with the placement of their children at the Winifred Gaskin Memorial Secondary and Manchester Secondary.
A former head teacher told Stabroek News that the Winifred Gaskin Secondary used to produce very good results from the time it was established in 1965. At that time it was seen by the general public as a senior secondary school.
The Manchester Government School, now named Manchester Secondary, was established before and was really a Community High School. Up until the institutionalization of the Secondary School Reform Project (SSRO), only those "students who did not pass the common entrance" used to go there, the head teacher said. This has been happening for years. The more academically bent students attended other schools, including Winifred Gaskin Secondary. Manchester Secondary only started doing the Caribbean Secondary Education Certificate (CSEC) examinations one or two years ago.
He explained that the Manchester Government School was chosen as a pilot school for the SSRP without proper consultation with the stakeholders in the community. If there was proper consultation they would have chosen Winifred Gaskin Secondary. He said that from since 1995 to present, huge sums of money has spent trying to encourage parents to send their children there, but their efforts have been futile. Nothing is being done to help Winifred Gaskin Secondary.
The Ministry of Education has enforced a policy whereby the children who write the NGSA will be placed in schools within their immediate area, unless they did exceedingly well to have a place in the top schools.
According to the parents who spoke to this newspaper, their children are being deprived of a proper education because of the area they live in. They said that the schools in their area are not "high like them next school", and that they are not equipped with computers and other relevant learning/teaching facilities. Children who live around Rose Hall Town and have obtained less than 200 marks will still get a good school, because all of the schools around there are better ranked than those around here, they said. They feel cheated since their children are not allowed to attend "them school with higher standards. Every body should get a chance to the same education. Them things wha multi does do, Winifred [Gaskin Memorial Secondary] and Building [Manchester Secondary] don't do." Some parents are contemplating sending their children to private schools if things do not work out well. (Additional reporting by Adrian Smith)
Around the Web