-robbery ruled out

Police have applied for an extension of the 72-hour period they are allowed to keep persons in custody so that they can further question the two suspects in the Ramzan Alli murder probe.
A senior police source reported yesterday that hours after Alli's body was discovered in the trunk of a rental car at the Coldingen Railway Embankment, East Coast Demerara (ECD) a female relative of the man and a taxi driver were taken into custody.
A third man, Anthony Bellamy who was wanted for questioning in relation to the murder and was shot by police on Monday after resisting arrest, remains under guard at the Georgetown Public Hospital.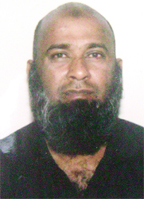 Asked whether charges are likely to be instituted shortly, the police source said "investigations haven't reached that stage as yet". The source also confirmed that Alli was not robbed.
"His wife has so far told police that he left home without any cash, jewellery or valuables on him, "and his cellular phone was found in his pocket. Nothing was taken from his person or the vehicle."
The 45-year-old man was discovered dead, with a plastic bag duct taped over his head, in the trunk of a car he had rented. Police reported on Sunday that Alli's body was found around 8.30 am that day on the Coldingen Railway Embankment Road in the trunk of his rental car.  Alli had left his home around 9.20 pm on Saturday after receiving a phone call.
After Alli failed to return home, police had said, relatives and employees conducted a search on Sunday morning and found the rental vehicle on the road. The police were subsequently informed and a search later revealed Alli's body in the trunk.
Around the Web