A woman accused of wrongfully confining a man along with the charge of simple larceny was on Friday placed on bail in the sum of $300,000 when she appeared before Acting Chief Magistrate Melissa Robertson at the Georgetown Magistrate's Court.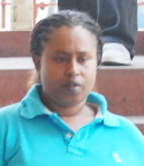 It is alleged that between July 13 and 14 at Georgetown, Sharon Narine, 37, of 67 Barr Street, Albouystown along with Dexter Lynch, wrongfully confined Andel Lynch.
It is also alleged that on July 13 at Georgetown, Narine stole $820,000, a gold band and a gold chain valued $1M, property of Andel Lynch.
Narine  was not required to plead to the indictable charge of wrongful confinement and pleaded not guilty to the simple larceny charge when it was read to her by the Acting Chief Magistrate.  Lynch was not present in court.
The virtual complainant too was not in court.
Attorney-at-law Vic Puran who represented the defendant made an application for reasonable bail on the grounds that his client has no previous convictions, poses no risk of flight and has been cooperating with the police in their investigations.
Puran said that the charges laid against his client are baseless and trumped up. He also told the  court that the virtual complainant (VC) who is known to his client had approached her for help after explaining that some people at the airport wanted to kidnap him.
"My worship, the allegations before you are baseless and trumped up. I don't know how in a bid to help the VC, all charges are now against my client."
Police Prosecutor Denise Griffith had no objection to the bail application made by the attorney.
The magistrate then placed the accused on $100,000 bail for the simple larceny charge and $200,000 for the confinement charge. She has to return to court on September 15.
Around the Web