Murder accused David Leander, aka `Biscuit' and 'David Zammet', who was admitted to the Georgetown Public Hospital (GPH) last Thursday after he was suspected to have been poisoned, took a surprising turn for the worse and was in a coma at press time last night.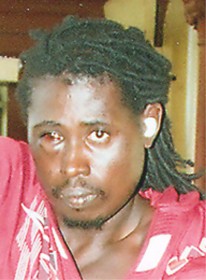 The 29-year-old man's aunt, Evelyn Estwick, told this newspaper at the Hospital yesterday that her nephew appeared to have recovered from his initial ailment a few days ago. She said she was informed by the doctor who had been attending to Leander, that the man suffered kidney failure and that he was in a coma. She said that the doctor did not explain what might have led to this development.
According to the woman, the doctor informed that Leander suffered a blood clot in one of his feet and as such "they had to burst the bottom of his foot". Estwick also dispelled assertions that her nephew was a diabetic, noting that when he was severely beaten after being apprehended, she had checked his blood sugar level and this was verified by a doctor. She said an ultrasound was performed on Leander's chest and other parts of his body a few days ago but the doctor did not disclose the reason for this.
She feared that her relative may succumb to his illness.
When this newspaper visited the hospital yesterday afternoon, many of his relatives stood around his bed, some voicing their frustrations. An aunt loudly wailed as the man lay with a blank stare on his hospital bed. He appeared motionless as relatives pulled and tugged his hand, some willing him to recover from his illness.
Leander was admitted around 9:15 last Thursday morning to the Male Surgical ward of the GPH frothing from the mouth and complaining of experiencing severe pain. He appeared to have recovered when this newspaper visited him at the hospital a few days after and as recent as Monday afternoon, was chatting with relatives  who gathered at his bedside.
Leander came to prominence when police issued a wanted bulletin for him and several other high profile wanted men. Police had issued wanted bulletins and offered a $2 million reward for the capture of Leander, Jermaine 'Skinny' Charles, Rondell 'Fineman' Rawlins, Orlando Andrews called 'Bullet' or 'Jeffrey' of Buxton, 'Cash' of Buxton; 'Not Nice' of Buxton and 'Sonny' of Agricola.
Leander was captured during a joint services operation in Buxton that resulted in the deaths of Noel 'Baby' James who had recently been released from prison after serving a sentence for larceny and Andrews who was wanted in connection with a number of murders. Following his capture, he appeared in the Georgetown Magistrate's Court on November 8,2007 charged with the murders of then Agriculture Minister, Satyadeow Sawh, his brother Rajpat Sawh, his sister Phulmattie Persaud and his security guard Curtis Robertson on April 22 that year at La Bonne Intention(LBI). Charles, who was killed along with notorious criminal Rawlins in a shoot-out with the joint services last August shortly after he escaped from the Sparendaam lock-ups, was also before the court for these murders.
When Leander first appeared at the Georgetown Magistrate's Court, he had visible injuries about his body and could hardly walk. His attorney had said that he was tortured by police while in custody. He was later admitted to the Georgetown Hospital following an order by Justice Jainarayan Singh Jr. These allegations were again presented before Magistrate Yohhannseh Cave when the Preliminary Inquiry (PI) commenced at the Sparendaam Magistrate's Court
Last Monday Magistrate Cave ruled that an oral statement purportedly made by Leander was inadmissible in the murder PI. Several days later he was admitted to the hospital and relatives had said that he was poisoned.
Leander's 'illness' has echoes of another case, observers say. Mark Thomas called 'Kerzorkee', one of the three 'death squad' accused, died at the GPH on February 1, 2004, weeks after he was rushed to that institution. His death remains a mystery with many believing that he was murdered so he couldn't say what he knew about the death squad.
On the day of his demise, Thomas had reportedly fallen asleep after eating and awakened suffering convulsions and begging for a drink of water. He then crashed to the ground, breaking his arm which was handcuffed to the bed and died.
At the time, he was facing a charge along with two others for the murder of cattle farmer Shafeek Bacchus on January 5 of the same year.
Thomas, who was the manager of Auby's Wine Bar which was allegedly used by members of the squad as a torture house, had collapsed at the Brickdam Police Station when he was told he was going to be charged with murder. He was rushed to the hospital but less than a month later, he died, reportedly after someone had taken him something to eat.
Following his death Government Pathologist Dr Nehaul Singh had performed a post-mortem examination on his body on February 4, 2004, but it was inconclusive. Twelve samples were then taken from his body and sent to the Dade County Medical Examiner's Department in Miami, USA.
The Dade County officials tested all the samples and were still unable to ascertain what caused the man's death. Reports at the time were that that poison was not ruled out since traces of certain drugs were found in the samples.
Around the Web