A 55-year-old Albouystown man who allegedly assaulted a police officer and behaved disorderly was also accused of being found in a compromising position with a dog when he appeared  before Acting Chief Magistrate Melissa Robertson who subsequently remanded him to prison.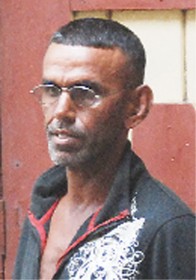 Jagdesh Roopnauth of 131 King Edward Street, Albouystown pleaded not guilty to charges of assaulting a police officer and disorderly behaviour when they were read to him by the acting chief magistrate.
It is alleged that on July 18 at Georgetown, Roopnauth unlawfully assaulted Police Constable Gregory Haslim. On the same day at Georgetown also, Roopnauth, being in a public place, allegedly behaved in a disorderly manner.
When given a chance to respond, the defendant told the court that he was innocent of the charges laid against him.
"Meh Worship, me ain't assault no police officer neither me ain't behave bad no way," Roopnauth said.
The defendant went on to say that Haslim, who lives in the same yard with him, had been drinking and an argument erupted between them  over a conversation about the policeman's drinking habits.
The virtual complainant (VC) was not present in court yesterday.
Police Prosecutor Denise Griffith told the court however that the story told by the defendant was far from the truth. She said that on the day in question, the VC went home and found his wife crying. When he enquired why, she showed her husband the defendant allegedly penetrating their dog in the back yard.
At this point the VC noticed Roopnauth in  total nakedness sexually penetrating the dog, the prosecutor told the court.
In tears, the defendant denied the allegations laid against him.
"Meh worship me ain't do nothing like duh," he repeated constantly.
Griffith said that the charges laid against the defendant occurred when the VC confronted him to enquire what exactly he was doing with his dog and why he was doing it.
"My worship', it was at this point that the accused standing before you began behaving disorderly and assaulting the police officer who is also the VC in the matter."
Prosecutor Griffith then asked that the defendant be denied bail on the grounds that if he were to be placed in the same environment there is the likelihood that he would interfere with other dogs. These remarks by the prosecutor caused an outburst of laughter in the courtroom.
The defendant was subsequently remanded to prison until July 27.
Around the Web