–new strains of corn, soybean being developed
The National Agricultural Research Institute (NARI) and the Iowa-based M S Technologies, LLC/Stine Seed Company yesterday signed a Memorandum of Understanding (MOU) which is expected to boost local research in seed development.
The signing took place yesterday at Duke Lodge where CEO of Stine Seed Company Howard Stine and Director of NARI Dr Oudho Homenauth signed on behalf of the respective parties.
Stine Seed Company based in Adel, Iowa, USA has the world's largest soybean breeding and development programme. MS Technologies and Stine Seed Company are currently operating a corn and soyabean research centre at Dubulay Farm near the Berbice River in Region Ten, and have developed hybrid corn seeds. They have expertise in plant breeding, including trait and germplasm development and distribution. All seed is brought into the country via import permit, with any new trait fully disclosed.
According to the agreement, MS Technologies and Stine will cooperate with NARI. MS and Stine and will collect data and may develop corn and/or soyabean seed that may be applicable to commercial production in Guyana. Additionally, MS and Stine will assist other US or multi-national companies to locate research operations in Guyana.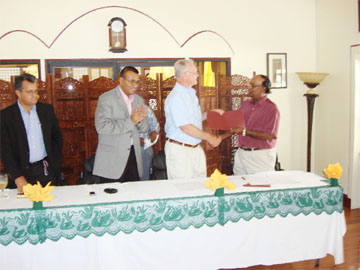 Additionally, the two overseas companies have agreed to "assist in the training of local researchers in various aspects of plant breeding and germplasm development." The two will also "enhance the laboratory capabilities of NARI for biotechnological research. Any other experimental materials of any description will be destroyed on site or shipped out of the country."
According to the MOU, MS and Stine "will pay all of their own expenses in connection with this project."
The agreement will run for three years and shall automatically be renewed on an annual basis thereafter unless terminated by any party by written notice six months prior to the anniversary date of the agreement, the MOU states.
Agriculture Minister Robert Persaud said that this agreement allows the local agriculture sector to tap into resources that otherwise would be difficult to have access to. He said the company was already operating in the Intermediate Savannahs, and was setting an example of what could be done. He opined that the partnership would also help Guyana in its local plan to diversify its agriculture sector locally.
Stine expressed gratitude for being afforded this opportunity.  He said he was hoping that the investors can develop crops that can benefit seed development both here and in the USA. He pointed out that he intends to experiment and said that one of the things that he may attempt to do in the future is produce bio-fuel.
Head of the Private Sector Commission (PSC) Capt Gerry Gouveia said that after visiting Dubulay Ranch he was impressed by the technical and business management of the enterprise.  He said that previously the PSC had not given agriculture the emphasis it deserved but this has changed and the sector is now on the front burner of the PSC.
He said he was personally considering branching into a sort of agro-tourism at the resort he owns, since this could be an important development tool for Guyana. Gouveia also called for the government to pour more money into NARI as this was an important institution in promoting research in the local agriculture industry.
Around the Web