The accident which occurred at approximately 3.30 am yesterday left Leon Mungra of Lot 220 Clifton Settlement, Port Mourant (PM)  dead and six persons injured. Stabroek News understands that motor car PKK 2036, said to be driven by Mungra and transporting two passengers above capacity, was speeding, lost control, swerved towards a street just off the Manchester Public Road and then flipped over and into a trench.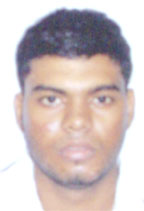 Ravi Takapersaud, 19, of John's, PM; Vickram Singh, 18, of John's, PM; and Geeta Johnny, 19, of Tain Settlement were admitted to the Port Mourant Hospital and remained in critical condition up to press time last night. Details of the trio's injuries are not known by this newspaper.
Chinsammy Veerasammy, 21, of Clifton Settlement, PM; Joel Mangal, 22, of Tain Settlement, PM; and Mahendra Persaud of Clifton Settlement, PM were treated at the medical institution and released.
A police source told Stabroek News that the group of seven was returning home after a gathering at a popular night club in Skeldon. The driver, according to the source, had reportedly consumed alcohol. The six injured survivors were rushed to the hospital by public-spirited Manchester residents.
Armin Rutherford, who lives close to the scene of the accident, told Stabroek News that he heard "a loud noise". The noise, Rutherford explained, sounded "like the impact the vehicle made in some sort of collision". Rutherford said he immediately rushed out of his home to investigate but saw nothing initially.
The area, Rutherford and other residents reported, was dark because it was the "wee hours" of the morning so they could not immediately tell where the sound had come from. A short time later the red motor car, with its four wheels in the air and its roof submerged in a trench, was discovered by residents.
Rutherford said that he and other residents were literally pulling injured persons from the vehicle to a safe spot within minutes. After they'd taken six persons from the upturned vehicle, the man recalled, and were preparing to rush them to the  medical institution one of the injured party said, "somebody still deh in deh".
Several residents returned to the trench and commenced searching the partially submerged vehicle again. After a while someone found a foot and the group quickly pulled 24-year-old Mungra from the damaged vehicle.
Mungra, Rutherford said, was still breathing after he was removed from the vehicle. They were all immediately rushed to the hospital.
A distressed Samuel Mungra told Stabroek News that he received a phone call early yesterday morning informing him that his son had been involved in an accident. The elder Mungra, speaking from his Clifton Settlement home, explained that at the time he didn't think it was a serious accident.
When he arrived at the Port Mourant Hospital, Samuel recalled, doctors were already attending to those injured but his son was still in the vehicle which, he assumed, had taken them to the medical institution. Samuel said he immediately enquired why his son was left in the vehicle and was told "the boy already dead".
The grieving father stressed that he cannot be certain that doctors examined his son "properly" to see if he was still alive and felt something could have been done to "sustain" him.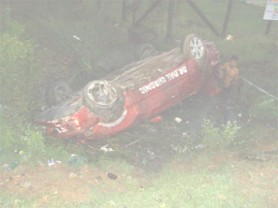 "They [medical personnel] coulda at least check he first," the elder Mungra said, "because he was breathing before when dem [the Manchester residents] put he in de car."
The 24-year-old man had been employed at the GuySuCo Staff Club for about one year.
On Friday morning, three Covent Garden men died after their car hit a pole on the East Bank Demerara Highway near Providence.
A fourth who was allegedly driving and was injured was taken to court the same day.
Those who died were Richard Chinian, 23; Asheeki Asgarally, 19; and Peter James Sookdeo, 23. Farood Mohamed, who survived the accident, was taken to the Georgetown Magistrate's Court  but no charge was read to him because of his ill health.
Police in a press statement said investigations revealed that Chinian, Asgarally and Sookdeo were in a car proceeding south along the eastern carriageway when the driver lost control of the vehicle and crashed into the concrete base of a light pole. The police release pointed to Mohamed as being the driver of the vehicle.  (Adrian Smith)