Recently-appointed President of the Institute of Chartered Accountants of the Caribbean Harryram Parmessar says the body is aiming to set up a Technical Advisory Commit-tee to ensure greater consistency and application of accounting standards across the region.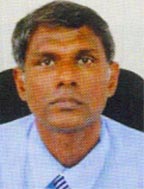 In the face of the growing challenge of migration in the region as a whole, Parmessar, a Guyanese, in an exclusive interview with Stabroek News, said accountants are continuing to leave these shores mainly because the level of earnings here is  lower than elsewhere.
He noted that there were also more opportunities for upward mobility in accounting further afield.
However Parmessar continued to be optimistic about the future of the profession and pointed out that on the other side there is a regional effort to strengthen training capacity so as to improve the quality of accountants in the region.
In this regard, he said, the institute is continuing to work with a number of international bodies, mainly ACCA. He said this body has given a lot of support in priority areas for training needs.
Further Parmessar said that in a changing environment there are a lot of new standards being developed.  To this end he noted that the biggest challenge was the interpretation and application of these standards in the region.
In the month ahead he planned to do a lot of work to sensitize the public on new accounting standards, and at home a decision will be taken on where the threshold would be set regarding which levels of business would need to use full accounting standards.
It would be necessary to arrive at a  uniform interpretation of the standards, he explained.
Parmessar, who served as vice president of the regional body and was elected as president at its June conference held at the International Conference Centre, Liliendaal, stated that one of the things coming out of that meeting was the decision to set up the advisory committee to guide member countries on technical issues so that interpretation and application could be more consistent across the region.
He pointed out that this was necessary since some territories tend to interpret standards differently.
He explained that among his priorities is for the institute to strengthen its regional practice monitoring programme and ensure that all members are on board with it.
Auditing the
auditor's books
Parmessar said that like any other profession accounting is subject to its own practice monitoring. He said some local accounting firms would have representatives from international affiliations to inspect their books and practices.
However, he noted that many of the small practitioners who do not have an international affiliation have no one reviewing their work to ensure that standards are being upheld.
To this end he pointed out that a sort of collaboration exists between the institute and countries in the region, including Guyana where an agreement was signed with ACCA so they can conduct checks of the auditors' works.
However, he said, so far only five members are part of this. Barbados, Guyana and Trinidad and Tobago have practice monitoring systems which started in January this year.
The Bahamas and the Organization of Eastern Caribbean States (OECS) signed up during the June conference, while the body is working with Jamaica and Belize to bring them on stream to become part of this quality assurance.
"In that way I think we would give the public more confidence as to the quality and standard of our performance of our auditing firms," he noted.
Even as the institute is working towards  increasing membership across the region, some member states still feel there should be some restriction in terms of the free movement of accountants and fitting them into the system in another member country.
He pointed to the need for more harmonization since some accountants in public practice would have to apply to be a member of the institute in the country and obtain a licence to work. He noted that here in Guyana, previously an accountant had to be a citizen to be a member of the institute to get a practice certificate.
The Government of Guyana, he said, has since amended that legislation to say "Caricom national" in place of Guyanese citizen.
He pointed to some concerns as to whether accountants coming from  other countries are familiar with local tax and company law regulations.
In this respect, the institute is looking to see what training programmes could come on stream to facilitate the acquisition of such knowledge.
He said there have been discussions on Caribbean company law and Caribbean tax law but they never got to the final stage. This, he said, would be pursued so members could equip themselves in that regard.
Migration
Commenting on shortcomings in Guyana, Parmessar noted the country's inability to retain accountants. Through the training programme run by the institute 25 accountants are produced each year but that number is not reflected in membership. According to him more than 50% of trained accountants migrate to North America and elsewhere, making it a challenge to find experienced accountants here.
He said this was a challenge not only for Guyana as accountants are leaving because of the huge demand in the developed countries where many companies are looking to strengthen their accounting departments.
The ICAC is the leading regional umbrella organization dedicated to advancing the interest of the accountancy profession in the Carib-bean and is cognizant of the need to provide leadership and formulate strategies to deal with existing challenges and those in the future.
In her 2008 report, immediate past president Angela Lee recognized that  there is a growing need for the profession to play a more active role in influencing economic policies and decision making processes at the local, regional and international levels.
Around the Web