Five bruised and shabbily dressed men yesterday appeared at the Vigilance Magistrate's Court charged with Wednesday's high-drama kidnapping of a Mahaicony rice farmer and his employee and before being remanded, they alleged brutality at the hands of the police.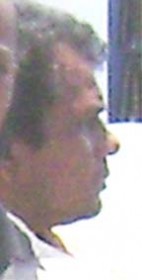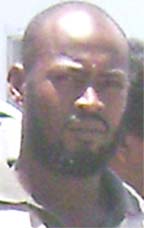 Rajan Persaud called 'One Hand', 49, of Lot 48 Haslington, East Coast Demerara (ECD); Denswick Booker called `Garry', 29, of 582 Block 20, Haslington; Suresh Kant Hardowar called `Boyo', 23, of 513 Haslington; Michael Payne called Michael Henry, 35, of 210 Haslington and 18-year-old Dwaine Johnson called Dwaine King were charged with two counts of obstruction with intent to kidnap for ransom. They were not required to plead to either count when Magistrate Sherdel Isaacs-Marcus read the charges to them. She later remanded them to prison until Monday when they will make an appearance at the Mahaicony Magistrate's Court.
The quintet is alleged to have abducted Parasram Ramnarace and Patrick Skeete at Letter T Estate, Mahaicony on Wednesday.
One relative sat in the courtroom yesterday and when the proceedings had concluded she informed the others outside about what had transpired.
Around noon, the group was escorted to the court by police officers. The accused were in handcuffs and they were untidy – dirty clothing and bare feet except for Johnson who was wearing a worn out pair of slippers.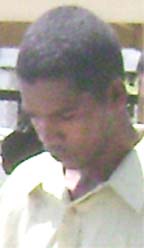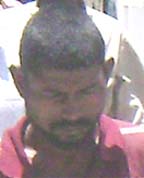 Before the hearing commenced, Persaud sat on the prisoners' bench while the other were in the court docks nearby. They were all expressionless and at times bowed their heads.
Meanwhile, all the men complained to the court about police brutality while in custody.
Attorney-at-law James Bond who represented Persaud, a father of six, and Hardowar, a father of a six-month-old baby, spoke of this during his attempt to secure bail for his clients.
Mango plantation
The other accused were not represented, but as a friend of the court Bond spoke about the injuries they too sustained while in custody.
According to Bond, both of his clients were badly beaten by the police. Persaud, who owns a mango plantation, he pointed out to the court, was wearing a blood-splattered jersey, had a bruise to his head and had been shot in his left leg.
He was taken before the bench for the magistrate to see the injuries.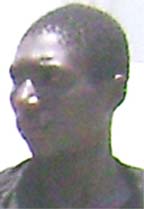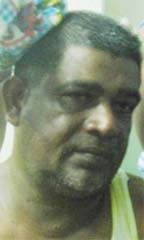 Bond told the court that Persaud had requested permission to seek medical attention for the wound to his foot but this was not given.
The lawyer also pointed out that his client sustained a number of blows to his face causing it to swell.
"They even lashed him on his hand. That is why they kept him so long so that he would heal up and mend up… Since Wednesday they held him. For three days now and he hasn't had anything to eat," Bond said.
Addressing the court about his other client, Hardowar, the attorney said that the man was stamped repeatedly resulting in him losing some of his teeth.
Hardowar, he said, was also lashed about his face and across the back with a cutlass. This newspaper noticed that the man had cuts on his face and he also removed his shirt displaying more wounds to the court.
Trying to convince the court to grant his clients bail, Bond submitted that "Persaud is in urgent need of medical attention. He has already lost an arm. I do not want him to lose his foot."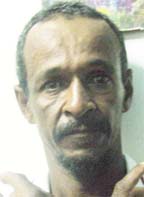 According to the lawyer, none of his clients are flight risks and they have strong ties to the community especially Persaud who has a family.
Payne, through Bond, said that he was hit about the head, face and body. He said that he was also kicked in the stomach. Booker said he was slapped several times while at the station while Johnson alleged that a rope was placed around his neck.
Police Prosecutor Robert Clement asked for bail to be refused since the section of the act under which the quintet has been charged makes the offence non-bailable.
However, Bond later said after reading the section that there had been an amendment and the court had the jurisdiction to grant bail.
The prosecutor later told the court that while it was clear that there were marks on Hardowar, from his experience they were not cutlass marks.
He said that during the incident, shots not discharged intentionally to harm anyone were fired and it was during this time that Persaud was apparently injured. He informed the court that further investigations are continuing into the matter and there is a likelihood that other charges will be laid.
He asked that on these grounds bail be refused and the matter transferred to the relevant court.
Medical attention
After listening to all the arguments, the magistrate remanded the men and stated that if Persaud needs any medical attention there are medical personnel at the Camp Street prison who can look at him if it is brought to their attention.
It was quick action by members of the joint services that led to the rescue of Ramnarace of Dundee, and Skeete of Calcutta both in Mahaicony who were kidnapped in the Abary Backlands by five men one of whom was armed with a gun.
According to reports, around 3 am, Skeete, who is an employee of the Ramnarace Brothers of Dundee, Mahaicony was pumping water in the backlands when the five men assaulted and bound him.
Around 7.30 am Ramnarace was making checks and he too was held by the men who robbed him of $20,000, a gold ring and other personal items. Demands for a $12 million ransom were subsequently made.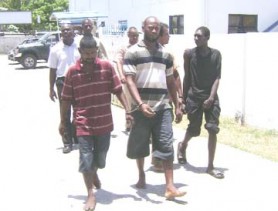 Police who were tipped off went to the area and after rescuing the two men arrested two suspects while three others managed to flee the area. Joint services ranks recovered one 12-gauge shotgun and nine matching cartridges
One of the men was caught around 8 that night in Enmore with a bag of wet clothing by residents who noticed him acting suspiciously.
Then around 1 am the following day the other two were arrested on the Mahaicony Public Road.
Stabroek News understands too that the wives of two of the accused were held by police for questioning. It was unclear at press time if they had been released.
Around the Web