Former First Lady Doreen Pamela Chung who passed away a week ago was laid to rest yesterday morning following a simple and solemn ceremony at St. Saviour's Church , Charlestown.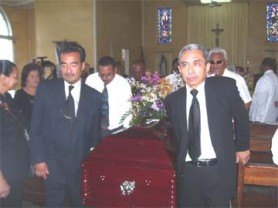 Mrs. Chung was the wife of Guyana's first President ,  the late Arthur Chung  who died on June 23, 2008..
The thanksgiving ceremony celebrating her life included hymns and a touching eulogy delivered by her son, Dr. Raymond Chung, who recounted the  lifestyle of both his parents .
Her body was interred at the St . Jude's church yard cemetery at Blankenburg , West Coast Demerara.
Office of the President Permanent Secretary Dr. Nanda Gopaul was present at the funeral service yesterday.
Around the Web