Uphill, downhill democracy feud evident
The celebration of Amerin-dian Heritage month at Orealla on Friday attracted hundreds of visitors but the general excitement was tempered by the call for democracy by some residents, underlining a rift in the community.
Orealla in Region Six (East Berbice/Corentyne) is home to about 1,000 people. The reservation can be accessed by boat via the Corentyne River or by an amphibious craft. Orealla neighbours the Amerindian Village of Siparuta, both of which are governed by a joint village council.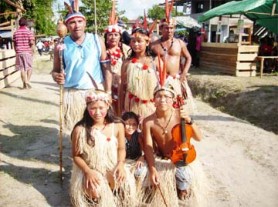 Following the Orealla/ Siparuta Village Council elections on April 28, 2009, Acting Chief Justice Ian Chang recently ordered Minister of Amerindian Affairs Pauline Sukhai to defend why a new election should not be held following a challenge to its validity.
Villager John King had alleged fraud during the process and had previously written Sukhai about irregularities during the process and her dismissal of claims about the electoral process resulted in the High Court action. Stabroek News was unable to locate King at Orealla for a comment but the matter next comes up in the High Court on October 21.
Prime Minister Sam Hinds, Amerindian Affairs Minister Sukhai, Chairman of the Regional Democratic Council (RDC) of Region Six, Zulfikar Mustapha and other government officials were present at Orealla's formal Heritage celebration. As speeches were being delivered under a newly commissioned "grand benab" downhill, about fifty residents were preparing placards for a demonstration uphill.
"Corruption in village" and "Amerindian Affairs Minister must step down" were tacked onto trees and walls by residents. After their presentation the ministers took a mini-tour of Orealla along a path which led them past the demonstrators. Stabroek News was not present at the demonstration site at the time but was later told by picketers that they stood peacefully and let their placards do the talking.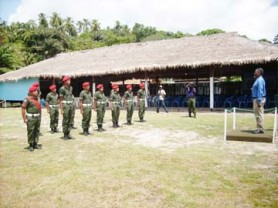 "Right now Orealla divided," one downhill Orealla resident told Stabroek News on Friday. "We got the uphill people and we got the downhill people…majority of those who are claiming to fight for democracy come from uphill."
During his speech at the celebration Region Six RDC Chairman Mustapha said that the celebration at Orealla was historic and warned residents about allowing "strangers" to divide them. Mustapha encouraged residents to remain united and focus on the development of their community.
"Why should you let strangers come and create problems?" the RDC Chair-man questioned the gathering on Friday afternoon. "You must not allow people to divide you…you are a close community and these strangers are trying to create problems."
Sukhai, who spoke after the RDC chairman, referred to his statements about persons trying to create a rift in the community.
Development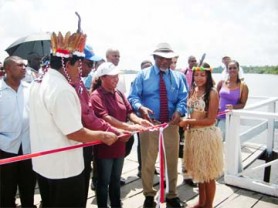 The generator which powers the Orealla Electricity Project, a new student's dormitory, an open benab used as a public hall, a recently constructed wharf and a private guest house were all commissioned on Friday as part of the heritage celebrations.
More than $50M, according to Mustapha, has been spent on Orealla's development during the last two years. The generator, which supplies residents with electricity for a fixed period at a cost of $260 per unit, was the first project to be commissioned by the ministers.
Jesus Tejeda, an Inter-national Energy Specialist from the Inter-American Development Bank, noted that electricity has become a key component of development worldwide. Tejeda who worked along with government to get the Orealla Electrification Project up and running assured that his organization will continue to support Guyana in such endeavours.
Meanwhile, the wharf which marks the main waterfront area of Orealla cost some $5M to construct, Sukhai said, and was a much needed piece of infrastructure at the location. The "grand benab" which housed the formal heritage ceremony on Friday was recently constructed and was funded by a $1.5M government grant.
Cortours Guest House, a privately owned venture which is still in the making, was also formally opened on Friday. Minister of Tourism, Industry and Commerce Manniram Prashad attended the ceremony and it was noted that the facility is one of the initial steps being taken to transform Orealla into a tourist destination.
Current Toshao/Village Captain Mc Lean De Vair expressed thanks on behalf of his community for the recent improvement in community infrastructure and the provision of electricity and water.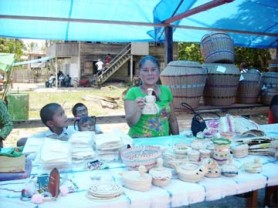 Orealla, according to De Vair, is taking on tourism and hopes to achieve its goal in the near future. He stressed that though the community is presently an "agri-based settlement" it will not remain like that for long. Arrangements are also being made for rice and sugar-cane to be farmed in Orealla on a large scale, De Vair said.
The Toshao also indicated to the Prime Minister and the Amerindian Affairs Minister that Orealla "desperately" needs a secondary school. He explained that although one floor of the Primary School is being used as a "Secondary flat", it is not enough. Proper facilities need to be provided for secondary education in Orealla.
Responding to the Toshao's request for a Secondary School, the Prime Minister explained that the current government approaches development in a "step by step manner". Hinds said that Orealla has already gotten a secondary flat and will eventually be given a Secondary School.
Culture
The majority of visitors remained oblivious to the bit of "uphill tension" on Friday as they admired woven hats, bags, traditional Amerindian outfits, jewellery and ornaments displayed for sale.
Several types of medicinal shrubs and woods, cassava bread, jam and many Amerindian foods and drinks were also available to hundreds of visitors. Locals could be seen parading through the village in their traditional wear and were friendly and helpful.
While the local culture was evident, Orealla residents also provided a blend of music, foods, drinks and activities which aimed, and succeeded, at making their visitors comfortable.
"This is not at all what I expected," an excited visitor told this newspaper on Friday afternoon. "I mean there's a full blast of Amerindian culture here but listen to that…I'm hearing chutney and reggae music and I'm eating normal Guyanese foods as well."
Eating, cotton spinning and other contests provided amusement for visitors and at sunset tents were erected, hammocks tied and the "grand benab" set up for night entertainment.
Heritage Day celebrations ended at Orealla with the promise of a Regatta this Saturday. The village in collaboration with the government and Cortours Guest House will be hosting the first Orealla Regatta which is one of the many events aimed at promoting the location as a tourist destination.
Around the Web