The three West Berbice children, whose mother died after her lover reportedly forced poison down her throat, have been placed in new homes and are back at school again.
The woman, Iola Ashantie Reynolds, 28, who was a waitress at a Chinese restaurant at Bush Lot succumbed at the Fort Wellington Hospital, where she was receiving treatment. She left behind her children Madonna Smith, 11; Eon Smith, 7; and five-year-old Candacy Britton. They were initially in the care of her mother, 60-year-old Isha Ally at Number 11 Village but she has since relocated, leaving the children with their relatives.
Candacy was left at Number Ten Village with her father, Daniel Britton. However, he died in August, reportedly from injuries he sustained while working as a labourer. The man's aunt, Waveney Pollydore and a sister who works in the army are now taking care of her. Pollard told this newspaper that "a little food is nothing to give to Candacy and to wash lil clothes for her".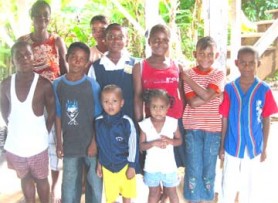 The child is in Grade One at the Woodley Park (Number 11) Primary School. The two older children, Madonna and Eon are residing at Number Nine Village with their grandparents Leona and Eurel Benjamin. The couple also has to care for seven other grandchildren and find it difficult.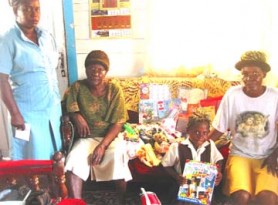 Madonna and Eon's father, who operates a speed boat at Bartica, had visited the Woodley Park School to have them transferred to Number Eight Primary where they are now attending, only to find that they had not been attending school. This newspaper caught up with the children at their new homes recently during a handing over of school supplies, clothing, footwear, foodstuff among other items that a woman from Canada, Deborah Leow, sent for them. They had just returned from school.
Leow, a registered nurse, was touched after reading the article that the children had lost their mother at such a young age and were left in the care of their grandmother, who was struggling to scrape by on what she earns as a domestic worker. She contacted Isha Ally by telephone and then got busy shopping and packing the items into a barrel to send. After some delay, the barrel arrived early in September and the items were handed over to the children by the School's Welfare Officer of Region Five, Gillian Vyphuis.
This newspaper accompanied Vyphuis first to Candacy's new home and she could not contain her excitement, especially when she saw her name on the items. She kept saying "thank you" to Vyphuis and when she learnt that Leow, who does not even know her, had sent them from Canada she was touched and asked the welfare officer to "tell the aunty I said thanks very much."
Pollydore expressed thanks to Leow "for her kindness in remembering the children who are suffering. May God bless her so she can continue to do good for other children who are in need."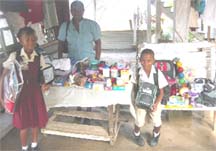 Over at the home where Madonna and Eon are staying with their grandparents and cousins, there was also much excitement. They too could not believe that Leow who had never seen them had gone to that extent to purchase so many items for them and had written their names on them as well.
They said that was the first time that somebody had sent anything for them and were extremely grateful. Their grandmother too was happy that "someone from so far away had done this for my grandchildren. I wish to thank the woman for all she has done and may God bless her." She said although her son is a speedboat operator he does not earn much and sometimes have to wait a long time before he is paid.
Leow told this newspaper via email that it was a pleasure for her to help out the children. She said too, "I just really believe that in life we should give other persons a hand up, to let them know that someone in the world cares."
She also said that the assistance would "hopefully give them, hope and encouragement to carry on when life is rough. I also believe that Guyanese who are financially well off should reach out to those much less fortunate than themselves."
This, she said, would help less fortunate children "to turn their lives around to something beautiful, so that crime and violence would not be a way of life for them…"
Further, she said that to simply share with others for "we never know when we are going to expire, and when we do, we are leaving it all here, nothing will benefit us when we are dead, except, that others will know that their lives were made better by a kind deed done by another human being."
Reynolds had shared a visiting relationship with her lover which started about a year prior to her death. He had turned himself into the police and had been held in custody at the Fort Wellington Police Station during the investigation.
While a post-mortem examination proved that Reynolds died from poisoning, Pathologist, Dr Vivekanand Brijmohan told this newspaper that there is no way to determine whether poison was forcibly given to a person.
Police had said that a report on the matter would be sent to the Director of Public Prosecutions for advice on how to proceed. According to police sources, the man denied that he "fed" Reynolds the poison.
Ally who resided in the upper flat of the house with the woman's children, had told Stabroek News that the man waited on the road for her daughter until she returned from work around 10 pm and went into her apartment with her.
She said they had been arguing all night after the man had accused her of "having another man." He left hurriedly the next morning and after that Reynolds shouted, "Ow mommy, meh stomach blazing." She then related that the poison had been forced down her throat. The woman said she immediately ran to get a neighbour to assist her in taking her daughter to the hospital where she succumbed.
Around the Web