Long lines during registration at the University of Guyana (UG) are quickly becoming a thing of the past as the institution has invested its meagre resources in achieving a friendlier student environment with a modernised Registry.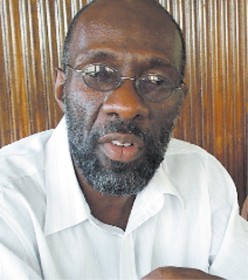 As a result, UG's Examinations, Admission and Registration departments are undergoing massive change that has already been trickling down to the student population, which has been calling for reforms for years.
UG Registrar Vincent Alexander in an interview with Stabroek News recently emphasised that the move to establish a student records management system that facilitated online registration was not merely in response to the long lines, but was necessary for the university to become more effective and efficient. With no additional allocation, the university has basically "cut and contrived" to ensure the implementation of the system, which will benefit students as well as the institution, he said.
The new semester begins on Monday October 5 and already the university has completed registration of it 3,000 plus students and each transaction was done electronically and with minor hiccups. The usual long lines at the Bursary and Admissions department were hardly visible this time around. In years past, many had lamented the tedious registration process, which involved long lines and took students almost an entire day to get registration started.
Additionally, students would still have to make trips to those departments for registration confirmation and the issuance of pertinent documentation to complete the process.
The process was longer for loan students, who would have to await loan confirmation before they could hope to complete registration. At times, the semester got started and students were still queuing to seek loan confirmations, necessary to complete registration.
This is not the first time that the university has moved to introduce a student records management system, which had always been in the pipeline, but according to Alexander a different approach has been taken. "What we have done this time is to build an in-house system with permanent in-house resources," he explained.
He noted that in the past consultants came to the university, designed software and then left and they were the ones who knew the most about the software and so in their absence many problems were left almost unsolved.
He said a software design department has been set up, providing the institution with the type of capacity required to do what needs to be done. In addition, the university has upgraded the position of records supervision to that of assistant registrar–records and data management, which is headed by Barbara Prince.
'A breeze'
With the establishment of its new student records management system, the university is also in the process of setting up electronic databases of all students' records to facilitate students being able to go online in the future to access the results of examinations. Retrieving transcripts and other student services from the registry's end will become more efficient, Alexander promised. "So it's a total reorganisation from our end so we and our students will benefit," he said.
With the new system, students apply online, then visit the campus to confirm and verify certificates and other records. An invoice for payment is issued online and after payments are made at a commercial bank and evidence of payment is deposited, students could go back online for approval of registration and then visit the campus for physical delivery of their identification card.
The time span for the completion of the process varies since some faculties are more equipped than others and some work faster than others.
Additionally, another hiccup has been cases where students are not as computer-literate as others.
To aid the system, Alexander said the records and data management system has established facilities on campus for students who do not have ready access to computers or those who may not be computer savvy to help them to register.
When this newspaper visited the campus earlier this week on a registration day, around 15 students were seen at the Student's Loan Agency. A few students were scattered around and fewer were seen heading for transportation to the city.
A group who were seated near the School of Education and Humanities building lauded the new system.
All of them were continuing students and they expressed relief and expressed the hope that things are better overall. "We see what happens overseas and always wish that we could have it here and it was time for UG to cut out the lines. I mean, we will have little hiccups but at least it is not like before," a third year student said. She did not want her name mentioned but said she felt more needed to be done to bring UG on par with universities around the world.
Another pointed out that registration was a "breeze" for him and indicated that he felt that it should have been done lone ago.
A Communications major said she was awaiting confirmation from the loan agency and was hopeful that the "virus would spread" so everything will be done technologically to prevent the additional stress which students experienced on campus.
Staff response
According to Alexander, the university has tried its utmost to involve Registry staff in the entire process and so they were aware that changes were coming.
Though most of the staff has not been retained, every effort was made to ensure that no one was laid off. Instead, he said, many were put to fill slots in other departments where it was felt they would be competent. Those filling the position are mostly those who qualified themselves while working at the university.
Prince, meanwhile, emphasised that the new system has created a friendlier atmosphere since the answers to most queries are now at "fingertips." She said it meant too that registry staff is more equipped to respond to student queries in a timelier fashion and could carry out internal work at a fast rate, since most information is now only a click away.
She pointed out too that the system is now more transparent and Alexander interjected that it made the university more accountable, lending to more confidence and fairness in the system.
As Registrar he said from time to time he would be approached by student with issues and in times past he would have to physically send for the students file which would have taken hours and sometimes days. Now, the new system allows him to tap in immediately to the student's records and respond in a more timely fashion.
The new system is being hosted overseas by a reputable firm. However, because of the way the modernisation programme is being approached, Alexander said a fixed cost has not been established. He emphasised that the university is now delivering a better service at no additional cost to students.
He said its salary bill has not increased significantly but noted that there had to be additional expenditure in computers, software and the setting up of the internet ready network. The university is funding the programme from its current budget with no special allocation for the process. UG receives a yearly subvention from government, which Alexander says it is grateful for. "We cut and contrived with our meager resources to make this possible," he said of the new system.
Around the Web