Shirley Fernandes, a member of the Soesdyke/ Coverden Cultural, Youth and Sport organization, in collaboration with the Board of Industrial Training (BIT) is giving high-school dropouts in the area a second chance at furthering their education.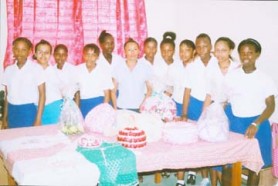 A training programme which commenced on January 12, targets high school dropouts (15 to 20 years old) in the Soesdyke/Coverden area and aims at equipping them with a skill which with further improvement will enable them to lead independent lives. The programme, Fernandes said, is being funded by the United Nations Development Programme (UNDP).
Fernandes explained yesterday that the programme offered a six-month craft course to students and on completion of the course they were issued certificates by BIT. The BIT certificates, she said, were accepted countrywide at craft schools and at the Guyana Technical Institute (GTI).
The first session of the programme, which concluded in July, started out with 15 students; five dropped out and ten graduated. Two of the graduates, Fernandes said, were now attending private schools so that they could sit the Caribbean Secondary Education Certificate (CSEC) exams and two were attending GTI pursuing studies in computer repair and electricity.
The second session of the course commenced in August and there are currently 16 students in that batch. However, Fernandes noted that all the students so far had been females. The males, she said, had expressed no interest in the programme.
"I'm not sure why the males aren't coming to us," Fernandes told Stabroek News. "We have a local sawmill willing to take them in and teach them carpentry and mechanical repairs for machinery."
Embroidery, crocheting and floral arrangements are some of the things being taught. Classes are held at the Soesdyke/ Coverden Neighbourhood Democratic Council (NDC) building and BIT in collaboration with the UNDP is giving students a $4000 monthly stipend.
"The money isn't much but it goes a long way for these students," Fernandes stated. "They use it to buy materials to learn their craft and for those who come from as far as Yarrowkabra it aids with transportation costs."
Fernandes said last year she approached BIT with the idea for such a programme because she realized there were many high school dropouts in the area wasting their time. These young people, Fernandes said, needed to be equipped with the necessary skills to support themselves.
Forms to enter the programme are available at the Soesdyke/ Coverden NDC. After the forms are completed applicants are interviewed by Fernandes. The main purpose of the interview is to learn more about the applicant and ensure that they are serious about completing the course.
"I chat with them and let them know that this is their second chance to be somebody and I listen to their ideas and what they want," Fernandes said. "I also let them know there is more to life and that with this certificate from this programme they can further their education and become independent people."
A lot of parents are not aware of the programme but Fernandes was hopeful that as word spread there would be greater response from youths. So far the parents of those who had participated and were participating in the programme had expressed enthusiasm and were very supportive, Fernandes reported.
"Majority of the youths I have dealt with so far dropped out of high school because their parents couldn't afford to send them any more," Fernandes explained. "Then there were others who left because of personal problems." In addition to the crafts, Mathematics and English are also being taught to the students. Help and Shelter also sends councillors to discuss such topics as self esteem and sexually transmitted diseases, among other things, with the youths.
Around the Web