Recent attacks have raised concern about security at the Botanical Gardens.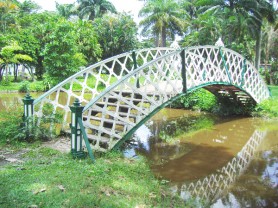 Stabroek News was told that in recent weeks, there have been several robberies and in one case a woman was raped.
But General Manager of the National Parks Commission Yolanda Vasconcellos, when contacted, said she was not aware of any increase of crime at the Botanical Gardens. However, she promised to investigate and told this newspaper that she would give a detailed response at a later date. When asked if she had any concerns at the present security arrangements at the facility, Vasconcellos said she could only respond after properly conducting her investigations.
In her capacity as General Manager of the Parks Commission, Vasconcellos has direct oversight of the Botanical Gardens.
Stabroek News was informed that the matter of security at the facility had engaged the attention of senior government officials. However, when this newspaper contacted Home Affairs Minister Clement Rohee on Saturday, he said he was unable to speak since he was in a meeting.  Subsequent attempts to contact him for comment, proved futile. Stabroek News was also unable to reach Tourism Minister Manniram Prashad for comment.
A victim of a recent attack in the gardens recounted how she was accosted by two men who took away her bag.  According to the girl, 17, the incident happened on September 9 at approximately 6 pm. The teenager, who asked to remain anonymous, said she and a friend were heading towards the Sheriff Street entrance when she was told by a guard that the gate was already closed and that she would have to use the Vlissengen Road exit. She said that when she and her friend turned around they were approached by a man who asked them whether the back gate was closed and after confirming that it was she and her friend continued walking.  Shortly after, the same man and another male, who seemed to appear out of nowhere, attacked her. She said that one of them grabbed her handbag and slapped her across her face before escaping. She suffered injuries as a result of the attack.
The teenager related that when she reported to the guard on duty, she was told that there was nothing that could be done since the persons had already escaped through the bushes. However, the next day, following searches, her bag was recovered with most of her belongings inside.
A photographer, who works in the gardens, said that in the last four to six weeks there have been a series of incidents there. According to him, although guards are permanently stationed at the Botanical Gardens and the police patrol the facility several times a day, security had proven to be inadequate. He recounted two recent incidents where a foreigner was robbed of a video camera by two men, while a young woman was robbed of her cell phone. He told this newspaper that the missing video camera was recovered after it was discovered that the men had hidden it in grass before they escaped.
On April 25, Samantha Hollingsworth, 16, was shot during a robbery attempt in the gardens.  Hollingsworth, who was among a group of about 15 students who had gathered there to study, was shot after she refused to hand over her laptop computer to two men who had accosted the group.
The men subsequently escaped with the laptop. A few days later, two men were charged and brought before the courts in connection with the attack.
Around the Web