– victim was strangled
A post-mortem examination conducted on the remains of the 49-year-old woman who was found dead at her Tain, Port Mourant, Corentyne home around 11 am on Sunday revealed that she died from manual strangulation and the police have held four persons.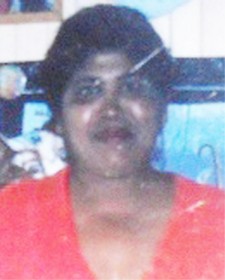 Chitra 'Chandra' Poonwassie's nude body was discovered in her bed in a pool of blood with a wound under her chin and her tongue protruding. It appeared as though she had been raped and then murdered some time early Sunday morning.
Two persons had been taken into custody at the Whim Police Station shortly after the gruesome discovery, including a man she was said to be having a relationship with.  Yesterday, a woman who resided opposite her house, along with another neighbour was arrested.
Reports are that Poonwassie was having disputes with the woman and her husband who is currently serving a one year sentence for possession of an illegal drug.
The woman who moved out of the area about a month ago had reportedly beaten Poonwassie on several occasions and the assault matters were engaging the courts.
Reports are that around 4 am on Sunday, neighbours heard the woman screaming, "Ow me buddy, lef me nah, ow me buddy lef me nah." But no one suspected anything was amiss as the woman would normally consume alcohol and "holler" in the house.
However they became suspicious later in the morning after they did not see her and informed her sister, Kawalah Dabidyol, 52, of Block 4, New Scheme, Tain.
Dabidyol told this newspaper that she got the message around 10.30 am and arrived at her sister's home at 11 am with her husband and made the gruesome discovery.
She said her sister's nude body which was lying on her bed in the upper flat of her two-storey property was partly covered with a sheet.
Police recovered a blood-stained knife on her bed.
The woman said her sister's killer(s) entered the house by ripping out a board from the enclosed stairway and opened the door to the lower flat to escape, apparently with the aid of the light from the refrigerator; the door of which was left standing open.
Poonwassie's son Viren Veerasammy, 28, of Ankerville, Port Mourant told Stabroek News that the neighbours had accused his mother of reporting them to the police for trafficking in illegal drugs.
Police had searched the neighbours' house and found the drugs and a man was sentenced to one year imprisonment. Veerasammy said that the neighbours had threatened to kill his mother and she reported that to the police.
Around the Web