Vibert Weeks, one of the men involved in last Tuesday night's shooting at the National Gymnasium, appeared at the Georgetown Magistrate's Court yesterday charged with attempted murder and inflicting grievous bodily harm.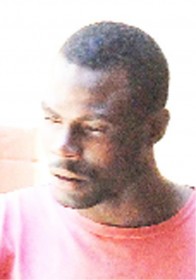 Weeks, 28, of WW 7 North/East La Penitence, Georgetown was not required to plead to the indictable charges when they were read to him by Acting Chief Magistrate Melissa Robertson.
It is alleged that on September 22 in Georgetown the accused inflicted grievous bodily harm on Jason Langevine and on that same day attempted to murder Jermaine Langevine, who is still a patient at a city hospital.
The charges against Weeks stem from an incident that occurred last Tuesday night at the National Gymnasium. Police, in a statement last Wednesday, had reported that around 11.20 pm on Tuesday, five males sustained gunshot injuries at the National Gymnasium, where they were attending a football final.
Attorney-at-law Basil Williams represented Weeks yesterday and told the court that his client owned a car rental business and drinking spot both of which are operated from his North/East La Penitence address. The accused, Williams said, was not a flight risk because of his business interests and it was on this ground that he requested that Weeks be sent on his own recognizance or be placed on bail.
Williams further contended that his client's only "crime" was being present at the location on September 22 and "ducking" a spray of bullets, which he alleged, were fired by Jermaine Langevine.
"The charge says that my client [Weeks] inflicted grievous bodily harm to Jason but it does not say with what," Williams stated.
According to the attorney, on the night in question it is being alleged that after the shooting incident outside the National Gymnasium, Weeks followed the Langevine brothers back to their place of business where he attacked them. Williams said it was very unlikely that his client would follow a man, who was allegedly armed with a gun and had just discharged several rounds, back to his place of business.
"My client would have to be very brave and stupid…," the attorney stated adding that, "police still need to identify what is the weapon my client allegedly used to attack these men."
The prosecution said that the facts in the file indicate that Jermaine Langevine was followed to his place of business where he was attacked by the accused.
However, the prosecutor could not say what was used by Weeks to inflict the wounds.
Magistrate Robertson, after listening to the submissions of the parties involved, granted Weeks a total of $475,000 bail on the two charges. The matter will continue on October 15 when it is due for report.
Jermaine Langevine was charged jointly with an employee Mark Goodridge last Thursday with felonious wounding and discharging a loaded firearm.
However, only Goodridge was present in court at the time the charges were read.
Around the Web