-Lovell
Stating that the rot had set in before the murder of Bartica gold dealer Dweive Kant Ramdass, Guyana Defence Force (GDF) Colonel Bruce Lovell has blamed the erosion of discipline for "unethical acts" that have tarnished the image of the joint services.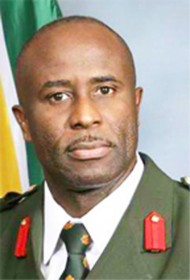 Addressing juniors at a command briefing held at Camp Ayanganna last Thursday, Lovell, along with Guyana Police Force Assistant Commissioner Krishna Lekhraj, Senior Superintendent of Prisons Colin Howard and Deputy Chief Fire Officer Winston McGregor, emphasised that the erosion of discipline must be arrested by commanders demonstrating true leadership qualities. "We have many commanders, but few leaders," he was quoted as saying in a GDF press release, which reported him as pointing out that officers are commissioned to hold command appointments and must remember that leadership is central to their command. "In as much as the badge of rank is an outward symbol of command, so too must your professionalism become visible. As leaders you have to influence your subordinates by providing purpose, motivation and direction to them," he added.
Three former coastguardsmen have been charged with robbing and murdering Ramdass, which triggered a huge public outcry. The men were discharged from the GDF after they were charged. In addition, there continue to be reports of excesses by both the members of the police force and the prison service.
The GDF release said the four senior officers urged the juniors to commit to a higher degree of professionalism and embrace the integrity and the ethos of their organizations so that the meaning of selfless and efficient service returns as the hallmark of the joint services. Lovell advised that with the expectation of a higher level of service by officers, poor performances and infractions committed by their subordinates must not be tolerated. He also encouraged them to professionally and humanely address even the smallest infractions. "To ignore the mediocrity of subordinates is to be derelict in your duties. Some have adopted the untenable position that with a new generation and societal changes your standards must be adjusted to suit. This is the belief of those who seek any excuse for laziness and ineptitude. We must not compromise our standards for when we do, it is everyone's loss. Remember however, that as leaders you must show compassion while remaining dispassionate," he stated.
Like Lovell, Lekhraj emphasized the importance of discipline, saying it is the hallmark of good performance. He added: "While understanding the realities of our situations, you must recognize the need too for continuous learning. As young leaders you must know your organization and its objectives; the functions of your office, and, in particular, your standing orders. Many are deviating from the oaths they took and that cannot continue."
He later urged all those present to engage in introspection to focus on strengthening the areas of weakness. "Revisit your values and ask yourselves whether characteristics such as respect, integrity, impartiality, reliability and accountability are evident to your subordinates, peers and superiors," he was quoted as saying.
Lekhraj also noted that their roles and functions require them to interact with the public, who will judge them on the merits of what they demonstrate. He said that if the joint services is sincere about adopting positive behaviours then a positive image must be reflected. To do otherwise, he said, would result "in more negativity being heaped upon us."
He added that it is "imperative" that as middle managers they know their mission, vision and values as well as the rules and regulations governing their actions among themselves and with the public.
Deputy Chief Fire Officer Winston McGregor and Senior Superintendent of Prisons Colin Howard also reminded the officers that because their actions were consequential, they needed to lead by example. They also cautioned against allowing negative influences and dishonesty to get in the way of leadership and the dispensation of justice, the release said.
Around the Web