Some 18,000 residents between Number 51 Village and Moleson Creek on the Corentyne can expect an improvement in their water supply service following the 'turning of the sod' ceremony for the Guyana Water Incorporated (GWI) Queens-town water treatment plant.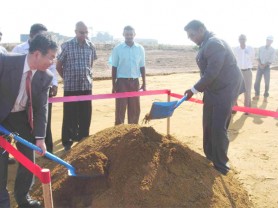 According to a GWI release, the new plant which is scheduled for completion in August next year forms part of the company's project for water supply in Corriverton.
The first phase of the project was successfully completed in 2008 at a cost of $1.1B.
The second phase of the project commenced with the awarding of a contract in June 2009 to the Tokura Corporation, a Japan–based firm.
The scope of the project involves the construction of a 5.5ML/day water treatment plant, elevated storage, and the rehabilitation of two existing pump stations as well as the installation of 8KM of PVC transmission lines.
According to the release, the Queenstown plant will utilize the slow sand filtration technology which was successfully implemented in 2008 at the Number 56 Village water treatment plant.
GWI said the plant will be the second of its kind in Guyana and when completed it will be capable of serving approximately 18,000 residents from Number 74 Village to Moleson Creek.
Chief Executive at GWI Yuri Chandisingh said the new plant will significantly improve the level of service provided by the company to customers within the project area.
Minister of Water Irfaan Ali and Japanese Counsellor Kiyoshi Takeuchi conducted the turning of the sod at the construction site of the Queenstown plant.
Around the Web