Acting Chief Magistrate Melissa Robertson yesterday sentenced a man who admitted having more than four kilogrammes of marijuana in his possession for the purpose of trafficking to three years in prison.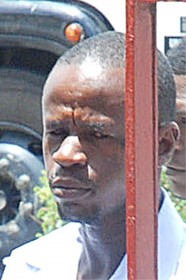 Troy Sertima of 1575 Victory Valley, Linden pleaded guilty to the charge of possession of narcotics for the purpose of trafficking when it was read to him at the Georgetown Magistrate's Court.
Sertima admitted that on September 25 anti-drug officials discovered four kilos, 102 grammes of cannabis which he had at his residence for the purpose of trafficking. The defendant told the court that he was just trying to make "a lil raise."
Reports are that on the day in question Customs Anti-Narcotics Unit (CANU) officers, acting on information received, went to the home of Sertima and conducted a search on his premises after informing him and getting his "go ahead".
During the search one of the officers asked the defendant to accompany them to the bathroom where a large brown canvas bag was subsequently discovered.
Plastic bags containing leaves, seeds and stems suspected to be cannabis were found in the canvas bag.
Sertima was arrested and taken in for questioning. He later admitted to CANU investigators that he had served prison time for possession of narcotics for the purpose of trafficking and was recently released from prison.
Magistrate Robertson sentenced the man to three years imprisonment and also imposed a $10,000 fine.
Around the Web