-Misir
University of Guyana (UG) Pro-Chancellor Dr Prem Misir yesterday said that lecturer Evan Persaud would not be denied due process in an investigation of complaints that he victimised students and engaged in inappropriate behaviour.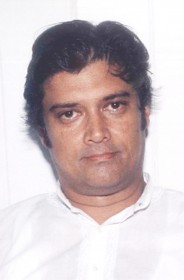 Persaud, who belongs to the Faculty of Technology, remains on the job. "This whole thing about what is going on with Mr Evan Persaud, in some ways, it is premature," Misir told members of the media yesterday at his Pere Street office. "There is a due process that works legally, whereby whether it is Mr Persaud, or whichever faculty [member] is faced with a committee of investigation, has to go through, that process has not worked itself out yet," he added.
Persaud, who has been nicknamed 'Sex Man' by students, has a range of complaints including claims of victimization and inappropriate behaviour lodged against him by students. Attempts to contact Persaud, who is also head of the Advisory Commission on Broadcasting and a member of the Indian Arrival Committee (IAC), proved to be futile yesterday.
In official letters of complaint seen by Stabroek News, some students have accused Persaud of victimization and intimidation, saying he promised to ensure they would not get jobs while he was around.
Misir said the investigation is at the investigative committee stage and he stressed that the committee does not determine whether the person loses his job or not, as the investigation has to go through some other stages. He said their main concerns as members of the University Council is that "we give, whether it's Mr Persaud or whoever is in the hot seat, a fair hearing and there should be appropriate due process at work." He stressed: "That's my main concern really and one of the reasons I called this [press conference]."
He explained that the UG statutes makes provision for an investigation of complaints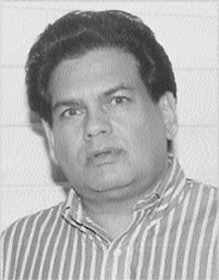 that might be made by students or anyone against a faculty member and that once the complaint is assessed and determined to have some degree of substance it would be investigated. He said in this case an investigative committee did do its work and "looked at all the pieces… and it came up with a report. But what has happened is that some people have seen the report on this guy ….it is not the end it is the beginning of the whole due process… as I said we are very concerned about fairness here, regardless of who it is and I am not using this briefing to focus on the particular gentleman in question. I think my main concern here is to educate you on the due process at work," he said.
He further explained that after the investigative committee completes its report the person in question should be given notice of the report by way of a letter. "Based on that letter… it would be useful for the person to assess whether he wants to appeal the situation or not appeal it. If there is going to be a situation where the person wants to appeal, then there is a whole set of due process at work."
Members of the University Council would have to set up a special committee, which would comprise three members who are not members of the council. Secondly, the Academic Board would also have to select two members of the special committee but again those persons must not be members of the council. "That committee hasn't happened yet; we are not even there yet, nobody has been fired or anything like that. It is not a case where somebody is going to lose his or her job. We don't know how all of this is going to work out," Misir said.  He said the matter does not conclude until the special committee holds its final hearing and it could even throw out the investigative committee report.
Questioned specifically about Persaud's matter, Misir said the investigative committee report has already been given to the University Council and based on how he assessed the situation, he has 14 days in which to respond. He refused to comment on whether Persaud has already received the letter informing him of the report or what stage the issue is at. "As I told you, this is a procedural briefing. I am not going to get into 'did he get it, did he not get it yet,' I am giving you the procedures," Misir said when further pressed.
He contended that he does not issue such letters and as such could not comment on that aspect but he did indicate that it is not even clear whether such a letter would be issued in this matter. "If the letter is given you have 14 days, if there is no response in 14 days I think the council would have to meet and further deliberate. I would not try to pre-empt or prejudge anything at this time," he said. He noted that not because the report was done it is "God's word, it is not written in stone." He emphasised: "The salient thing in the rule of law is that you are innocent until proven guilty, that's the situation here. So let's not get all too excited in the media. There is a situation that we are addressing and it is going through the procedures but nobody is guilty until everything is sorted out."
Asked about possible victimisation against students who may have testified against Persaud, who is still on the job, Misir said "as a council I am sure we are concerned about it… I don't know what we can do about it at this time. I suspect we would have to go through the procedures and let the due process work itself out. In any scenario where you are trying to clean up things or where you are trying to effect a change, an institutional change, there would be situations where there are going to be people who may get hurt in the process. This is the whole nature of the beast if you like, when you are effecting change. How it is going to play out is hard to tell, this is very, very premature at this time."
Whether Persaud should be sent on leave while the investigation is conducted would be a matter for the special committee but it would have to look at precedent. "I am going to ask the media to quell your excitement a little bit and let's shove ourselves off a little bit from the subject matter until you hear about the end product," Misir added.
In letters to UG Registrar Vincent Alexander, students alleged that Persaud victimized and intimidated them, particularly against students sponsored by a mining company. One student related that on the first day in class, Persaud told students, "Leave y'all God at the [expletive] door," saying that he was god in the classroom. Further, the student charged too that most of the time spent in class was "sex talking time" and as such he was given the name "Sex Man" by students. The student also reported that a 2008 examination supervised by Persaud was held at a city hotel and students who opposed this were victimized.
The student said too that after a decision was made by UG for Persaud's examinations to be invigilated, he told students that he would give them information about the examination. He said too that Persaud spoke openly about using his political links to victimize the sponsored students. "He said 'they were messing with the wrong person,'" the student quoted him as saying.
Two other students claimed that they were prevented from writing an examination on the claim that they had not passed their course work. They maintained that they had submitted their work to Persaud but never got anything back. They said he had done the same in two previous courses he taught. "He normally collects your course work and when you enquire he would say not to worry [and] he has you covered," they alleged, adding that other students who were clearly ineligible were permitted to sit the examination.
Around the Web