Mark Archibald of Number 42 Village, West Coast Berbice became blind while he was working in the army a few years ago, but he plants and rears chickens to make a living.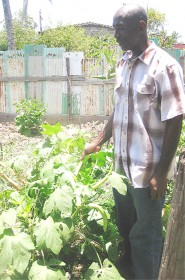 A very positive person, he told this newspaper in a recent interview, "Not because I lost my sight my life is over. I still have worth and I realized that there were so many things I can accomplish if I believed in myself."
Achieving his goals, he said is a difficult task but he was happy that he "is able to prove to my children that I can still do things. Even my children are amazed that I still have my skills."
Mark pointed out proudly that he, with the assistance of his son, recently built a fence in his yard. He also does other chores on his own like cleaning the yard, "feeding the chickens and planting and reaping vegetables from my garden. I am even doing my own plumbing and running my own pipe lines…"
A staunch Christian, he said, "I believe I can get around and do things because of my faith in God. One of the mottos I left the army with has also helped me: 'Whatever the mind can conceive and believe it can achieve.'"
But as he spoke about the Guyana Defence Force, there was sadness on his face. Mark said he was disappointed that he had not received "any assistance from the army; not even a basket when the Christmas comes or school clothes for my children."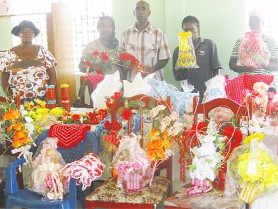 He said even though he is earning a living it was still a struggle to meet all of the needs of his wife and five children. Two of his children are in high school, one is attending primary school and another one is in the army while another child is looking for a job.
He said that he had to "pinch" the little earnings he has to purchase school items for his children and a combination chair for one of them to start secondary school this year.
He recalled that just after losing his sight he was devastated and spent about three years in distress not knowing how to move on. "It was a very difficult period for me and I saw it as a test from God."
He pointed out that he was in the process of renovating his house and when he became involved in the accident that resulted in him being blind, and everything was left at a "standstill." There were no walls and a section of the roof was incomplete.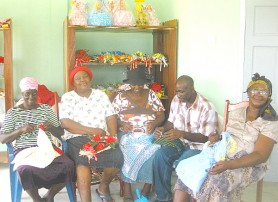 His wife, Judy Archibald who told this newspaper, "I am his eyes now", said, "We used to get wet whenever rain fall… things were difficult but I went through it all with my husband and I am still committed to him. We stood up with God's strength; we don't have to sit and live in poverty."
They were both very grateful to President Bharrat Jagdeo whom they described as a very "generous man," for providing them with zinc sheets to complete the roof. They said the President was on an outreach visit to the area and they explained their dilemma to him and he willingly agreed to assist.
As if life were not bad enough, their water supply had also been disconnected at the time because they could not afford to pay for the service.
And after they explained the situation to the President he gave instructions for it to be reconnected.
Judy recalled that during the three years that her husband did not have a job they resorted to going into the backdam to "pick coconuts and sell…" As she said that, Mark remarked with a smile that he could still climb a coconut tree.
Meanwhile Mark said the President also granted his request for a new nursery school to be built at Seafield Village as the one housed under the primary school was not convenient for the children.
Further, he pointed out that President Jagdeo had asked what project was needed for the area and he mentioned a community centre which has since been built.
Disabled People's
Network
Mark who is President of the Disabled People's Network (DPN) in Region Five said the community centre is located in the compound of the cricket ground and that a "blind cricket" match would be held there on Sunday October 4. A fee of $300 for adults and $200 for children would be charged for admission.
Mark played for the Blind Cricket Association when it was established in 2007 and represented Guyana against Trinidad and Barbados. He said that in the cricket match "your ear is your eyes; you have to listen for the ball which has a bell in it."
He said President Jagdeo would be invited to grace the event and "to bowl the first ball to declare the match open. We also want the President to see the good work we are doing here after he helped us to get the building."
He pointed out that the building is also being used by members of the DPN for a Skills Training Centre where they develop their skills in craft making.
On the day of the cricket match the group will hold an exhibition and sale of the items they have created including floral arrangements, chair-backs, placemats and kitchen towels. The funds raised would be put towards keeping the centre going. The exhibition would also help to showcase the talents of the members.
The group recently acquired a sewing machine from the Ministry of Human Services and Social Security so members will have an opportunity to learn how to sew.
Mark pointed out that the members are eager to start cooking and cake decorating classes but the building needs to be extended and equipped with kitchen facilities before that can happen.
Members visit the centre on Mondays for the classes and Mark said "we can do a lot more [craft] but we lack the materials. We would be very happy if persons can assist us. We have to purchase the materials on our own."
Further, he said when persons with disabilities receive assistance "they feel very special to know that others care for them."
He was pleased to disclose that the Neighbourhood Democratic Council had purchased materials worth $15,000 for the group. Ice-cream sales, he said, were also held in April and July to raise funds.
The purpose of the DPN, he said is to "lift the moral standards of the members and help them to become self-reliant. We also need them to learn a skill to get jobs." Members are also engaged in making pepper sauce and achar and bottling them to sell.
The organization has to find $3,000 weekly to transport members to the centre for the craft classes as well as an additional sum to provide snacks.
Last December an exhibition and sale was held and most of the craft items were sold.
Mark is urging persons to support the cricket and exhibition on Sunday and is hoping to attract more persons to purchase the craft this time.
According to Mark, "Persons with disabilities have a lot of potential and we do not want to deprive them… If they are given the green light and assistance to develop they would do well."
Pansy David, vice-chairperson of the DPN who was present during the interview, proudly told this newspaper, "I did not know I had potential until I joined the organization." She said the organization "helps persons to discover and develop their hidden talents."
One of the teachers, Brenda Fordyce who is volunteering her services at the centre told this newspaper that she feels "good to share; it's good when you can share and help somebody. They might be disabled but they can still elevate themselves."
Further she said she is happy to see them develop their talents and to know that they can be at home and still earn a living.
Mark is hoping that donors and the government can "come forward and assist the organization. We are not only talking, we are working. Disabled persons can be treated better and be more recognized."
Further he said, "It is my dream for our bill [of rights for the disabled] to become a reality so persons with disability can access school and certain rights like all citizens of Guyana. Some persons with permanent disabilities are still not getting [public] assistance."
There are also plans for the organization to start, joinery and masonry in January. A letter has been sent to the Ministry of Human Services and Social Security, requesting funds to purchase an electrical saw and other equipment.
Mark said too that as part of their work plan for this year, the organization would be visiting schools to "enlighten the teachers and students to acknowledge persons with disabilities."
Meanwhile, Mark told this newspaper that the DPN, made up of strictly persons with disability, was a part of the Community-based Rehabilitation (CBR) programme, but had branched out on its own in 1996.
He recalled that after he became blind his world seemed hopeless and he lingered on his misfortune for over three years before finally moving on with his life.
However, he did not do it on his own – actually he was grateful to have met the chairman of the National CBR Committee Gregory Glasgow who introduced him to the CBR in Region Five.
After that, he said, there was no turning back as he too has been able to recognize his true capabilities. "I never realized that as a blind person I would have been able to do work like plumbing and running my own pipeline… no one taught me how to do that but the organization taught me how to use my initiative."
Around the Web