A 44-year-old man, who allegedly attempted to murder his nephew by lashing him to his head with a piece of wood, was yesterday remanded to prison when he appeared before Acting Chief Magistrate Melissa Robertson at the Georgetown Magistrate's Court.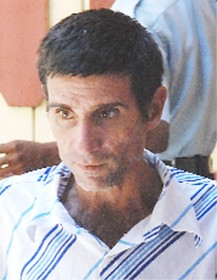 Desmond De Nobrega of Parfait Harmonie, West Bank Demerara was not required to enter a plea to the indictable charge of attempt to commit murder.
It is alleged that on September 25 at Adelaide Street, Charlestown, he attempted to murder 19-year-old Ricky Kissoon who had to be hospitalized.
However, his lawyer stated that the incident resulted from a misunderstanding between Kissoon and De Nobrega's 16-year-old son.
The defence counsel stated that on the day in question Kissoon was persuading the 16-year-old boy to accompany him to an Amerindian Heritage Day celebration at St Cuthbert's Mission when an argument erupted.  Kissoon's mother then got involved in the argument.
The lawyer stated that as the argument escalated Kissoon was 'accidentally' lashed with a piece of wood to his head by De Nobrega.
The lawyer said further that Kissoon had indicated that he did not want to proceed with the matter, adding that De Nobrega and his nephew have had a good relationship in the past.
The lawyer also noted that his client suffers from malaria and constantly needed medication.
However, Prosecutor Kevin London stated that Kissoon's head was still swollen and had the stitches that he received as a result of the wound.
He said Kissoon was not in a position to decide what he wanted to do with the case and had indicated to the prosecution that his family had forced him to accept compensation for his medical expenses. However, the compensation was not forthcoming at the time, he said.
The prosecutor said that on the day in question Kissoon's mother and De Nobegra were involved in an argument which resulted in him picking up a piece of wood to strike her.
He said that Kissoon, who was present, observed De Nobrega attempting to lash his mother so he pushed her out of the way and received the blow instead.
The magistrate subsequently ordered that De Nobrega be remanded to prison and that he appear back in court on October 6.
Around the Web