In July last year Pilot James Berisha and his daughter were told that their homeland, Kosovo did not exist. Their trip – a vacation to Mexico had to be postponed but the incident was the catalyst for the 37-year-old man to undertake a mission to raise awareness of the country's existence and independence.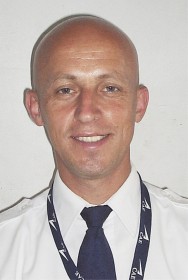 It is for his country and people that he is flying through Central and South America to raise awareness of Kosovo as an independent country, Berisha says. "I want change… people who have no voice, I want them to be heard," he said. It is by no means a small task as Kosovo is only recognized by 62 countries out of the 192 that are members of the United Nations (UN). Guyana does not recognize Kosovo's independence.
Berisha is in the country having flown through all the Central and South American countries with the exception of Venezuela, which is next on his itinerary. His 'Flying For Kosovo' mission has seen him meet media personnel and foreign ministries in the various countries as part of his crusade.
Kosovo, a nation of 2.2 million people – mainly ethnic Albanians, is located in Southeastern Europe. It was an autonomous province of Serbia, until a new constitution under Serbian dictator Slobodan Milosevic in 1989 revoked this status. Kosovo Albanian leaders responded in 1991 by organizing a referendum that declared Kosovo independent. Under Milosevic, Serbia carried out repressive measures against the Albanians in the early 1990s as they used passive resistance in an attempt to try to gain international assistance and recognition of an independent Kosovo.
However, Albanians dissatisfied with the passive strategy in the 1990s created the Kosovo Liberation Army and launched an insurgency. Starting in 1998, Serbian military, police, and paramilitary forces conducted a counterinsurgency campaign that resulted in massacres and massive expulsions of ethnic Albanians. International attempts to mediate the conflict failed, and Milosevic's rejection of a proposed settlement led to a three-month NATO bombing campaign against Serbia beginning in March 1999 that forced Serbia to agree to withdraw its military and police forces from Kosovo. A UN-led process began in late 2005 to determine Kosovo's final status. The negotiations ran in stages between 2006 and 2007, but ended without agreement. On 17 February 2008, the Kosovo Assembly declared Kosovo independent.
Serbia continues to reject Kosovo's independence and subsequently sought an advisory opinion with the backing of the General Assembly from the International Court of Justice on the legality under international law of Kosovo's independence declaration.
For Berisha, the struggle to get other countries to recognize his homeland as a sovereign nation cuts deeply. His father is one of the thousands who perished in the ethnic cleansing of Albanians. He recalled that his father, a farmer, was staying with relatives in the centre of the town of Brestovc in 1999. On March 1 that year, the farmer went to check on his cattle at their home on the outskirts of the town when Serbian snipers shot him. "He bled to death and died in front of our house," Berisha recalled. "It has affected me to that part where I want to see change." He has written a book about his experiences.
The turning point, however, came he planned a vacation to Mexico with his daughter. He recalled that when he went to the Mexican Consulate for the visa, he was told that that country did not recognize the UN passport. Kosovo had not yet begun issuing its own passport and the official said that the girl would have to get a Serbian passport and the country did not recognize Kosovo. Berisha had a US passport but the father and daughter trip was cancelled.
On May 25 this year, Berisha began his quest leaving his El Paso, Texas home and flew through the countries of Central America and South America meeting with persons, media and government officials to encourage them to recognize Kosovo. He arrived in the country recently and visited this newspaper and hopes to meet representatives of the Ministry of Foreign Affairs and the Caribbean Community (Caricom) Secretariat.  He described Suriname and Guyana as "amazing" giving their cultural mix of peoples.
The pilot, who left Kosovo at 16 to pursue his dream, says that for this trip, he has been surviving on donations from persons and a documentary on his trip is to be produced.
His relatives still live in Kosovo, one of the poorest states in Europe. Before embarking on his mission, Berisha worked as an airline pilot flying corporate jets. He holds the view that countries' non-recognition of Kosovo means that they do not acknowledge the people's existence. "Are we from space?" he asked noting that some countries would not accept Kosovo's passport. He said that this likely included Guyana. But there is hope on the horizon.
Recently several countries have indicated their intention to recognize Kosovo as a sovereign state. Serbia continues to view this as illegal and recently dispatched a note of protest to the UN secretariat and demanded an urgent investigation into how Kosovo president Fatmir Sejdiu was able to visit UN headquarters. Sejdiu had led a delegation in New York at the time that Kosovo was debated by leaders participating in the annual General Assembly opening session several days ago. Serbian foreign minister Vuk Jeremic was reported by Serbian and Kosovo media as saying that Sejdiu and his delegation were private parties and therefore not allowed to take part in General Assembly proceedings. However, Kosovo did not participate in the General Assembly, although its delegation did meet representatives of various UN states on the sidelines of the meeting, using passes to access UN headquarters.
Meantime, in a September 25 speech to the General Assembly, Serbian president Boris Tadic thanked all UN states that had not recognised Kosovo as independent and, underlining that the International Court of Justice proceedings on the question were still underway, urged that there be no further recognitions. He pledged that Belgrade would never recognise Kosovo as independent, viewing the unilateral declaration of independence in Pristina as illegal, according to a Reuters report.
A contrary view was taken by Albanian Prime Minister Sali Berisha, who in his speech to the UN General Assembly, urged UN member states that had not yet recognised the independence of Kosovo to do so. Kosovo media said that on Sejdiu's return from New York, he said that there would soon be recognitions of independence by five countries – Tuvalu, Malawi, Qatar, Kuwait and Pakistan.
Around the Web