A 45-year-old man, who allegedly battered a street dweller to death with a piece of wood on Sunday, was remanded to prison yesterday when he appeared at the Georgetown Magistrate's Court.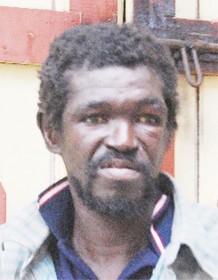 Floyd David, known as 'Foodface', who gave his address as Second Field Beterverwagting Squatting Area, East Coast Demerara, was not required to plead when Acting Chief Magistrate Melissa Roberts read the indictable charge of murder to him.
It is alleged that on September 27 at Bourda Market, he murdered Joseph Pyneandy.
David told the court that Pyneandy had hit him first and he retaliated by hitting him back. "Ow I ask he fuh ten dollars, only ten dollars fuh something fuh eat and de man beat me bad wid a piece ah iron," he said.
He pointed to his swollen left eye and stated "he gimme ah lash hey, wap," and "he gimme another one hey, wap," as he pointed to his left shoulder.
He claimed that he was given a severe beating by Pyneandy with a piece of iron and he retaliated by lashing him with a piece of wood. "Is wuk I de doing when he start fuh beat me."
The murder accused said he was a handyman to many vendors at the market.
However, Prosecutor Edmon Cooper stated that on the day in question David was the one who had hit Pyneandy to his head with a piece of wood and Pyneandy retaliated by hitting him back. David then dealt Pyneandy several other blows about his body which caused him to collapse. He was later taken to the hospital where he subsequently succumbed.
The magistrate subsequently ordered that David, who appeared in court with an ostomy bag attached to his lower abdomen, be remanded to prison and that the case be transferred to Court Three for November 20. Advice is to be sought in the matter.
Around the Web