2009 shows confidence in Guyana's economy – Prashad
About 300 exhibitors participating in this year's GuyExpo, which opens this evening at the National Exhibition Centre, Sophia, attended a seminar on Monday with Minister of Tourism Industry and Commerce, Manniram Prashad.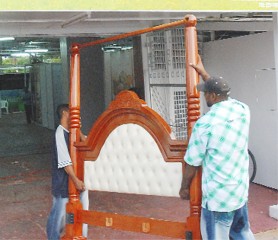 According to a press release from the GuyExpo 2009 Committee, this year's turnout is the largest and an indication of the huge public and private sector participation anticipated.
At the seminar held in the main auditorium of the National Exhibition Centre, Prashad expressed satisfaction with the level of participation and special interest shown by exhibitors and investors.
According to the release, the minister told the gathering that their turnout is being viewed as a display of their preparedness and confidence in Guyana's economy.
GuyExpo, Guyana's largest trade and investment exposition, was started in 1995 by the Guyana Office for Trade and Investment (Go Invest), the Guyana Manufacturers' Association and the Ministry of Tourism, Industry and Commerce as a bi-annual event to showcase locally produced goods and services.
In 2004, however, the event became an annual one and is seen as the longest sustained exhibition in the Caribbean. The release noted that in the same year, the growth and interdependence of the international trade organizers opened the exhibition to Caricom and other regional exhibitors.
The last GuyExpo which was held in 2007 attracted in excess of 70,000 patrons, including special invitees and guests, and more than 300 exhibitors, displaying a wide range of products, craft and services. Exhibitors, according to the press release, came from Barbados, India, China, Brazil and Jamaica, among other countries.  GuyExpo is now a national occasion which has been placed on the ministry's annual calendar of events. This exposition and trade fair offers business associates the opportunity to meet, network and negotiate with international companies and establishments, as well as showcase their skills, talents and creative works.
GuyExpo, which ends on October 6 is being held under the theme, 'Promoting Business in a Low Carbon Environment'. It fuses a wide cross-section of producers of handicraft, furniture, garments, jewellery, horticulture, pharmaceuticals, tourism and information technology as well as Guyanese culture.
Around the Web