GuyExpo 2009 drew hundreds at last night's formal launch but few of the exhibitions created any buzz.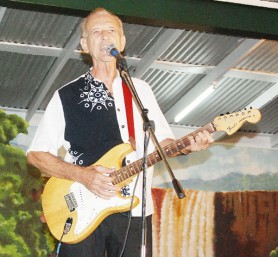 The faint smell of barbequed chicken was the first thing that greeted visitors entering from venue's main entrance (Eastern Highway). Food and drinks greeted visitors as they moved east into the compound followed by a string of the booths offering photography and video services.
There was one lone games booth that offered the chance to win stuffed animals and a too tall Spiderman and bubbly clown were also there to greet children. Guyanese and a sprinkle of foreigners appeared to be enjoying themselves as they moved about first attacking the food then the electronic stalls perhaps hoping to get deals on cellular phones and other such technological devices. "I come here every time because believe it or not you can grab a deal here but it's mostly on electronic and household stuff," a smiling young man commented, "This is the first night so I don't expect much excitement but things will begin to look up."
Food, furniture, hardware items, household products and jewellery, most of which can be located in stores around Georgetown, dominated booths. It was the local clay and leather crafts and some of the available fashion that added some character to the trade fair. D&R Wooden Craft, Kaieteur Gift Shop, A&C Leather Care/ Leather Land International, WiFi Decquau Leather and Candama Retreat were some of the booths which stopped browsers and beckoned them for a second look. The scene at the Sophia Exhibition Centre heated up at around 8pm after the ribbon was cut declaring the six-day event officially open.
Despite the obvious lack of excitement people were very relaxed and milled about looking, mixing, socializing and enjoying themselves. The Low Carbon Development theme adopted this year by the trade fair was evident at a number of booths.
At minutes to 7pm organizers were working diligently to correct a hiccup in the electricity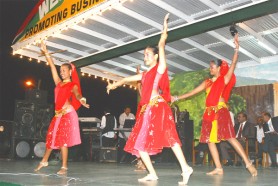 supply to the booths and there was a five minute period when booths were without electricity. However, everything was under control an hour later and booth owners and representatives were warming up to do their thing until the night of October 6.
The one thing in abundance at GuyExpo was gift ideas. Christmas, birthday, get well or thank you presents were all around. Among the more interesting pieces on display were the glazed clay jewellery as well as ornaments, pots, candle holders and other ornaments fashioned from white or coloured clay.
GuyExpo 2009, as a group was heard joking, was the safest place in Georgetown last night. Police were out in their numbers and stationed at strategic points throughout the compound.
They moved systematically, were profession, polite and provided an environment of safety where people could relax.
A dance by the Apex School of Dance entertained the crowd at the GuyExpo opening ceremony followed by a very entertaining 20 minutes of Dave Martins. The hip flinging by four pretty girls grabbed the crowd's attention and set the stage for Martins' humorous jibes and patriotic songs.
Martins' songs injected a good dose of nostalgia into the affair and reminded that GuyExpo was also a display of Guyanese culture as well as its products and services. As Martins sang of Guyana's richness and funny boyhood experiences his talent shone through, and glancing around at the many displays of craft available at the trade fair it was easy to see the delightful products available in our country's business industry.
While there were quite a number of trinkets that caught the eye perhaps one of the sights that will be remembered by many is a strategically displayed dress by Sonia Noel. The dress, a flowing golden cream affair mixed with chocolate brown was Noel's centrepiece in her booth and caught the eye. It is sure to inspire "dress lust" in hundreds of females visiting GuyExpo.
It was not only Guyanese products on display last night but their culture and talent as well. Booths, both shimmering and plain, will all be visited as the number of visitors increase today and business representatives are confident that the excitement will emerge and build as the trade fair progresses.
Around the Web