Captain Gerald Gouveia yesterday flew a Britten Norman Islander, which had been stranded at the Kaieteur Falls area for just over a year, to the Ogle International Airport (OIA).
The aircraft, 8R-GRC, damaged its nose during a landing accident last September and was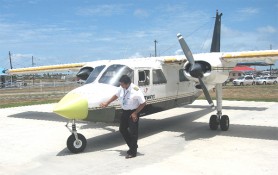 grounded. Gouveia, proprietor of Roraima Airways, who spent more than $30 million to repair it, landed at the OIA at 11.25 am yesterday and was greeted by several staff members.
At the time of the accident, Gouveia said yesterday, 8R-GRC was being flown by a Roraima Airways pilot and was transporting several passengers.
A ditch, according to Gouveia, had been dug across the landing strip at Kaieteur and this resulted in the aircraft's nose being damaged.
No one was injured during the mishap, he explained, adding the incident only occurred because the ditch was dug with aircraft operators being unaware of it. Gouveia told reporters at Ogle yesterday morning that once "the Ministry of Transport and Hydraulics looks into the issue of ditches being dug" everything will go smoothly.
The aircraft, which cost about $70 million, will be grounded for another month so that further checks and tests can be carried out. The flight from Kaieteur to Ogle was good, Gouveia said, which is proof of the good work done by the engineering team.
He ensured that the damage done to the plane last September was reversible and has been reversed leaving no question of safety.
Before its accident 8R-GRC transported tourists, other passengers and cargo to the Kaieteur Falls and other interior locations.
The aircraft was designed in the 1960s and can carry up to nine passengers not including the pilot.
Around the Web