– points to lack of proper systems
Calling for a stakeholder-driven overhaul of the rice sector, AFC Chairman Khemraj Ramjattan says securing first priority in the region and ensuring better access to capital are among the immediate policies that need to be considered to help farmers increase profitability.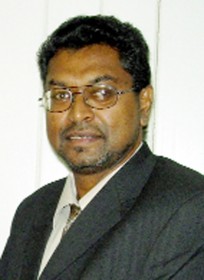 According to Ramjattan, recent months have highlighted the mismanagement of the rice sector, ranging from a "lack of a properly maintained system" of drainage and irrigation to a "limp and ineffectual" lobby to procure a first priority of our rice within the regional market. He said these problems have been compounded by a conscious attempt by the governing PPP/C administration to remove democracy from the Rice Producers Association (RPA). As a result, rice farmers from Corentyne to Essequibo, he said, are currently faced with the burdens of low paddy prices and general unprofitability of their crop. "The overhauling of the entire system is what is required, with the major voice as to what that overhaul should be, coming from farmers and millers through an authentic and genuinely representative RPA," he declared.
Recently, President Bharrat Jagdeo announced that government would set aside $400 million to assist the sector, after meeting with farmers. Jagdeo described the situation as very difficult for the farmers based on the high cost of inputs, the difficulties they have with some millers and the prices that are currently available for paddy. The President said he had asked the RPA to hold consultations with farmers across the country to determine the best modes of utilizing these resources that will bring short-term relief while also ensuring that some of the problems the industry currently faces could be addressed in a more definitive, long-term manner.
Ramjattan said the AFC looked at the promise with some suspicion, saying there is no certainty as to the status of the money, which has not yet been approved by Parliament. "Right now it is a mere commitment to the farmers who are giving the government no ends of trouble with protests countrywide and a major litigation in the High Court," he said. "So it might just be a soft-sop pronouncement to temporarily appease a rising number of discontents." He added that there has also not been any concrete proposal as to how this money will be distributed and it is very clear that rice farmers who need immediate assistance will not see any of the money in the near future.
In this context, Ramjattan outlined the AFC's proposals for new policies, which he said would form the pillar for a fuller realization of the potential of the sector and increased profitability. He noted the need for Guyana to regain the respect within Caricom as a reliable supplier of a quality product. To this end, he emphasized the need to bring to a halt what he dubbed the "misconduct" of the Government of Guyana in not complying with rules of trade concerning goods from Caricom, like cement, citing the recent ruling of the CCJ. "How can we ask Trinidad to buy our rice when we do not want to buy that country's cement? So as we go outside of the region for our cement, so too will other Caricom countries go outside for rice," he explained. He added that a plan to work on Brazil's need for rice by looking at options in Region Nine should be developed.
Ramjattan also pointed to the need for better access to capital through the establishment of an Agricultural Development Bank, saying that it will not only be for rice farmers but all spheres of agricultural activity including fishery, livestock, and animal farming. He also urges support for the World Bank Proposal on Agricultural Insurance, explaining that Guyana needs to increase agricultural competitiveness and such instruments could provide a sustainable market mechanism.
At the same time, he identified roles for the National Agricultural Research Institute (NARI) and the University of Guyana to ensure production of disease-resistant varieties and generic planting material to ensure less dependence on imported pesticides, weedicides and fertilizers.
Value-added products like rice cereals, flakes, and flour, he said, with an attendant cultivation of culture to eat what we produce, also need to be explored.
Ramjattan also emphasised the need to upgrade various domestic market venues, including those at Stabroek, Bourda, Mon Repos, and La Penitence to more farmer friendly consumer markets. He noted that they are all deplorable with substandard facilities even though government has awarded construction contracts over the years.
Around the Web