Guyana's investment attractiveness was yesterday emphasized at a special investment seminar organised by the Guyana Office for Investment (Go-Invest) as part of the activities for this year's GuyExpo.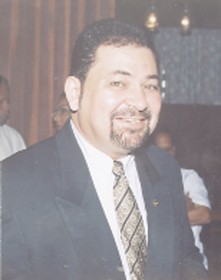 The seminar was held at the International Conference Centre, Liliendaal and it drew both local and overseas participants. The majority of overseas participants were from the USA and St Lucia.
Head of Go-Invest Geoffrey Da Silva told the gathering that "economic development in Guyana is characterized as open, competitive, diversified and sustainable" and that there is scope for investment in the various regions of Guyana, while noting that foreign direct investment (FDI) has recently increased.
During his presentation titled 'Investment Opportunities in Guyana,' Da Silva said that for this year Regions Nine, Ten and Six had seen significant increases in investment projects when compared to previous years. He said Lethem had become an attractive area for investment, especially with the opening of the Takutu Bridge. Linden and the Intermediate Savannahs in Region Ten and areas along the Corentyne and in East Berbice were also identified as the specific areas where investment projects have blossomed. He emphasized that Linden was fast becoming an attractive place to do business because of the skilled workforce available and because of is potential as a trading point. Da Silva, however, noted that the largest number of projects is still located in Region Four.
He said that for this year agriculture, services (including transportation, financial, medical, machining and retail/commercial) and wood products were the sectors registering the most significant growth in terms of local and foreign investors. According to him, "these three sectors comprise 70 percent of the total number of projects."
Da Silva also pointed out that there were several general incentives for all investments. He identified benefits such as: no foreign exchange controls, unlimited carryover of losses from previous years, accelerated depreciation on machinery and equipment, full and unrestricted repatriation of capital, profits and dividends. Other benefits, he noted, were "Double Taxation Treaties with the UK, Canada and Caricom countries as well as the right of businesses to open and retain foreign exchange accounts with commercial banks of their choice."
During his presentation, Da Silva made reference to a recent study commissioned by the UK's Department for International Development (DfID) that identified two major binding constraints to economic competitiveness in the Caricom region, including Guyana. These are the low level of entrepreneurship among small and medium-sized enterprises (SMEs) and their low level of innovation.
He stated that the study concluded that Caribbean entrepreneurs had to "prioritize the needs of their customers, ensure that their employees are adequately compensated and to invest in the communities where they are located." Da Silva told the gathering that these constraints are being addressed locally through the cooperation of the government, international development agencies and the local private sector. He said that co-investing with private investors had resulted in modern infrastructure, improved business support services and more emphasis being placed on skills training of employees.
He explained that this was being done mainly through the National Competitiveness Strategy Implementation Plan and the Agricultural Diversification Plan.
Meanwhile, Da Silva noted that recently there has been an increase in foreign direct investments (FDI) in Guyana.  While pointing out that the largest number of FDI projects continues to be from the USA and Canada (68), he noted that more FDI projects are being facilitated from other countries such as Trinidad and Tobago, Barbados, China and Brazil.
He also said that a significant part of this were investments in projects by overseas-based Guyanese as he noted that 64 such projects had been achieved up to September 19.  This he noted was an improvement of the 44 projects from last year.
Speaking about the sustainability of enterprises locally, Da Silva stated that the sustained development of an economy is based on achieving a "balanced diversification of new investments and re-investments."  Providing data for investments, he said that there were 154 new projects, the expansion and upgrading of 115 projects and 5 mergers and acquisitions. "
He also noted the importance of "achieving a balanced growth of micro, small, medium and large companies."  According to the statistics, there have been investments in nine micro, 168 small, 67 medium and 30 large projects, so far for the year.
This special investment seminar is held every year to coincide with the holding of GuyExpo.  In addition to the seminar, Go-Invest is holding meetings with representatives from the different countries that have come to Guyana for GuyExpo.
Around the Web