– irate family wants thorough probe
Relatives and friends of an Industrial Area, Mackenzie man are calling for a thorough investigation into the circumstances surrounding him being shot in the back by the police yesterday.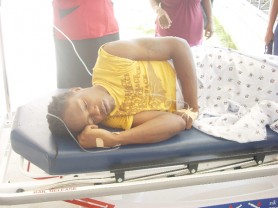 Twenty-eight-year-old Carlyle Benn called 'Carl' of 17 Industrial Area was shot in the left side of his back as he attempted to evade police officers some time after 5 am yesterday. He was subsequently transported to the Georgetown Public Hospital and admitted to the High Dependency Unit (HDU).
Relating the incident, Benn's friend who is an ex-police officer but chose not to have his name recorded, told this newspaper the police were forcing his friend to identify two men who are suspected to have been involved in the recent breaking and entering of Basil Jaipaul's storage bond at Amelia's Ward.
The man said that on Thursday he and Benn were at Mora Street Mackenzie visiting a man who had promised Benn a job. "We were right in the street when the police [names given] and some others pulled up and the police tell Carl that he wanted to talk to him," the friend said. "I was right deh in hearing distance and was listening to what was going on. De police was trying fuh convince Carl fuh come with dem to go and point out de man dem."
He said the police officer and a member of the community policing group at Linden (name given) told Carl that they were told that he knew two of the suspects in the robbery.
According to the friend, they pleaded with Carl to accompany them to the area where the men lived and promised that they would have hidden him in the vehicle so the men would not have seen him.
Carl admitted to knowing the men but said that he didn't want to get into any trouble. He confirmed two names among five which were called out by the police officer. The man said that Carl was seeking his advice on the matter, but was told not to call him into the matter. "Dey had he under pressure and he was calling me to de vehicle and the police [name mentioned] tell he he ain't want nothing fuh do with me and he only want Carl."
He said that in an effort ward off the police, Carl told them that he was going to see someone about a job and would return in a short while. However, he sought the advice of another man who told Carl not to go with the police.
While the police waited on the road Carl escaped through the back yard of his potential employer.  After waiting for a while the ranks decided to go into the yard and realized that Carl had fled the premises.
Benn's sister said that around 6 pm the same day she had just returned from work when she noticed a green vehicle approaching their yard driving in slowly. She said she became concerned because she noticed the occupants peering into their yard. She decided to approach them to find out what was the matter. "It was then I notice two police [one name given] and the businessman whose storage bond was recently broken into and two community police officers [one name called]," Benn's sister said. "I ask dem is what happen and dey tell me dey looking fuh Carl and I ask dem is wah wrong, and dey tell me is nah nothing serious. Dey just want ask he some questions."
She said when she went inside and told her brother what the police wanted him told her that he didn't want anything to do with the police because he was usually targeted and sometimes beaten by police wrongfully. "He put down de baby he had in he hand and run away through de back yard," the sister said.
The woman said she did not see her brother again until some time after 5 am yesterday when she was awakened by a hail of gun fire.
She said that upon investigating she saw a policeman on the back fence fire a gun and was told that her brother was attempting to escape the police who had returned to get him. "All I hear dem saying was 'look he deh running, look he deh running' and is suh de one on de fence keep licking shots," the woman recalled as she broke down in tears.
She said she later received a call saying that her brother was seen on the dyke (a mined-out area behind Industrial Area) and he had sustained a gunshot wound to the left side of his back. She said that their father and a few others went to get him as he was refusing to leave the area with anyone else.
According to the woman, several neighbours said he went to them crying and saying that he had done nothing wrong and was being pursed by the police. "Everybody would tell you that Carl stop going out because he does say he gat he family and he focusing on making money. He friends does come fuh he and he don't even go no matter what dey tell he," she said, adding that because of her brother's impoverished state, she has taken on the responsibility of providing for his children and sending them to school.
She added he was due to leave the area yesterday morning to do a job which he had secured the previous day.
The man's irate father supported the fact that his son was frequently targeted by the local police. He said that on more than one occasions his son went to the police station and was either locked up or beaten when he refused to give information.
"De police in dis place is really corrupt and I really want you fuh record what a saying and report it because it's not fair what the police here is doing," said the man.
He said that between 5 am and 6 am yesterday, he was awakened by a knock on his door and upon checking he came face to face with a police rank.
"He ask me fuh Carl and ah tell he Carl don't live here he live at de back house," recollected the man. He said that shortly after he went back into his house he heard gun shots being fired.
"Everything about wah happen here dis morning is wrong because I can't see dat they gon target me son so much fuh something he ain't responsible fuh," the irate father said. "Dey ask he if he know dem man wah break Jaipaul place. … is nah like dey accusing he of breaking de place. Dey can't want force he fuh go and point out dem man if he ain't want to. Dat is so wrong. Nothing about dah ain't right and we want justice."
Around the Web