Local investigators suspect that the three bullet-riddled and disembowelled bodies which were discovered in the Essequibo River last week may have a drug connection and have since sought the assistance of Interpol and friendly law enforcement agencies through the Drug Enforcement Administration (DEA) for help in solving this crime.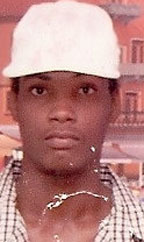 Several senior police officials have indicated that all possible angles were being pursued especially since this was "no ordinary killing." Stabroek News was told that this is the first time that investigators have been faced with this type of killing and there was information circulating that it may be drug related.
The corpses which were all in an advanced state of decomposition and bore gunshot wounds to the head with the intestines missing, are believed to be those of the crew members of the Island Princess which vanished some time last week. Relatives and the owner have since been unable to make any contact with the vessel or the crew.
The bodies which had to be buried where they were found after an on-the-spot post mortem examination will be exhumed on Tuesday and tests will be carried out to confirm their identities.
There has so far been no indication as to where the vessel may be and the fourth body has not yet been found.
Police yesterday said that two of the bodies found so far belonged to the captain Titus Buckery Nascimento of Herstelling East Bank Demerara and Mahendra Singh called 'Sunil.' The confirmation apparently came after items found on them were identified by relatives.
The third body is yet to be identified but the relatives of Ryan Chin of Linden and Rickford Bannister believe that they have met a similar fate and were part of the crew on the missing vessel.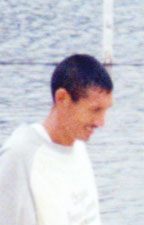 Crime Chief Seelall Persaud had told Stabroek News last week that nothing was taken from the bodies for DNA testing. He explained that with advance technology, they could be exhumed at a later stage and samples taken.
Police yesterday for the first time spoke of the missing vessel and revealed some information about their investigation into its disappearance and the discovery of two of the bodies.
In a release police said that an investigation had been launched into a report of a missing cargo vessel named Island Princess and its four  crew members about 18:00 hours last Tuesday in the mouth of the Essequibo River and the subsequent discovery of two bodies off Hamburg and Wakenaam Islands in the Essequibo River last Tuesday and Wednesday.
Enquiries have so far revealed that Titus Thomas called Titus Buckley, the captain of the vessel, and crew members, Mahendra Singh called Sunil, Ryan Chin and Rickford Bannister left Parika with the vessel on September 26 for Friendship, East Bank Demerara.  They were last contacted about 18:30 hours the said day and had given their location as Essequibo River mouth, the release said. Efforts to contact them about half an hour later proved futile.
The bodies of Thomas and Singh were found in the vicinity of Wakenaam and Ham-burg Island on September 29 and 30 respectively. Their bodies bore gunshot injuries and they had been disembowelled.
The release added that the police had since sought the assistance of Interpol and other friendly law enforcement agencies through the DEA and had provided photographs of the vessel and other related information.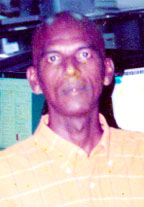 The third body was found on the Queenstown, Esse-quibo foreshore last Friday afternoon, two days after the second body was discovered face down on a beach at Hamburg but the police yesterday did not make a specific connection to the missing vessel.
They described the body found at Queenstown as being that of a man about 30 years old, of medium build and around 6′ tall. He was clad in mauve underwear, was of medium build, brown in complexion and appeared to be of mixed ancestry. The body was in a state of decomposition, and like the others it had been disembowelled and had suspected gunshot injuries to the head and right leg.
This newspaper has since learnt that this body was also buried after an on-the-spot post mortem examination.
Initial reports described the boat the men were on as a 'trawler,' but yesterday the police described it as a 'cargo vessel.' Relatives of at least two of the men said that they had been told that they were going to be travelling to Trinidad and Tobago on it but they could not say for what purpose.
Yesterday the relatives of Nascimento who have already accepted that one of the bodies found is indeed his on account of the height and his cellular phone which was found, are making plans to travel to Essequibo on Tuesday for the exhumation. His body was found at Black Rock, Wakenaam.
Meanwhile, the aunt of Chin, Lynette Bowry said that they had received no further word. She said that he is about 5 ft 8 ins, has 'plait' hair, the tattoo of a cross on his chest, a mark on one of his hands, is of medium build and of mixed race.
A senior police official has since told this newspaper that the corpse found on Friday had no hair since it had been in the water for some time. Also other marks may be unrecognizable, he said.
Last contact
From all accounts, the killings occurred some time after Tuesday morning since Chin was the last known person to make contact with relatives. The man had reportedly contacted his aunt on Tuesday morning saying that he was on a trawler relaxing and had just finished cooking. Nascimento last made contact with his wife two Saturdays ago saying that he would be returning home the following morning.
Bannister's wife heard from him around August 14 and was unable to contact him thereafter even after she called all the numbers he had left with her.
However she did manage to contact the owner of the boat whom she referred to as `Jango' last Tuesday night and he told her that he had received information that the vessel broke down and was stuck at Mahaica and he was going to check it out.
A senior police official has since told this newspaper that because of the state of the bodies, they had to have been in the water for at least a day before they were found.
Yesterday when this newspaper contacted 'Jango' he at first was reluctant to speak, but eventually said that the vessel was not his but rather he was affiliated with it. This newspaper had contacted him twice before but on each occasion he said he would not speak. (He declined to give this newspaper his real name.)
He said that the men had gone to Parika to do
maintenance work on the vessel and were on their way back to Georgetown when tragedy struck.
According to him, he last made contact with them two Saturday nights ago and had instructed them to "park the vessel" when they returned to Georgetown.
He stated that he was at present cooperating with the police and was "very hurt" about the incident since he was very close to the men, especially Bannister.
"I want to get to the bottom of this because the killers are still out there," he said before going on to say that when the matter had been solved he would issue a statement.
The discovery of the bodies recalled a similar occurrence in March of this year when the bullet-riddled bodies of a father and son, Romeo De Agrella and Clint De Agrella, were found at Iron Punt, North West District. The decomposing remains of the De Agrellas of Grant Strong Hope, Lower Pomeroon River, were found days after they failed to return home. Post-mortem examinations had revealed that they had died from multiple gunshot wounds.
Crime Chief Seelall Persaud had told Stabroek News that the men's murders were believed to be drug related.
Police, in a statement, had said that investigations revealed that the victims had left Venezuela and after not returning as expected they were reported as missing on March 22.  The statement said their bodies were found with gunshot wounds while their boat, which also bore bullet holes, was recovered without the outboard motor engine.
The boat was found overturned in the Waini River by the occupants of a passing passenger vessel. It was subsequently pulled ashore.
Two men, Lloyd Roberts, 27, a minibus driver of 3667 North Ruimveldt and Tyrone Da Silva, 27, a farmer and boat operator of Marlborough Pomeroon River were charged with the murders in June. An arrest warrant has been issued for a third man, Sean Belfield, in connection with the murders
Around the Web