After 30 years delivering the babies of St Cuthbert's Mission, Amanda Mahadeo still has that drive to succeed.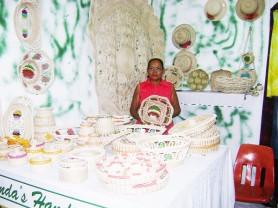 But the spry 57-year-old admits that it is a little more – the need to survive, that pushes her and several other women in her village to produce and seek markets for their handicraft. While it has not taken off in the way they would have wished, the women persevere and continue to look for markets, though Mahadeo acknowledges that it has been an uphill task. The women produce by hand various items made out of straw such as jewellery cases, place mats and carpets, among others.
In her thirty years as the midwife in the Amerindian community, Mahadeo learnt at first hand, the struggles that many women in her village encountered. She faced some of the same hardships and turned to craft making to supplement her income and ensure that she had enough to send her daughter to school in the city. Mahadeo retired two years ago but she noted that the cost of living has gone up "tremendously" and she cannot depend on her pension alone.
So she and about eight other women make craft and sell. As she tries to entice visitors at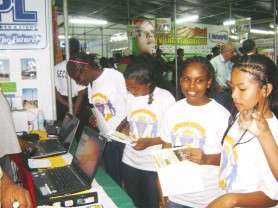 Guyexpo 2009 to purchase from her by offering discounts, Mahadeo knows that exposure at the trade fair is vital. "We are doing it because we want a market and buyers we can depend on… the women in the community depend on this for a livelihood as well," she stated.
It is a craft that has not paid off as well as they hoped because of the limited markets. Mahadeo recalled that several years ago, she had a buyer but the woman migrated and there was difficulty in finding new buyers that could be depended upon. It was hard, she recalled. "We had to walk with our stuff from St Cuthbert's to the highway." This is a distance of about 15 miles.  For a time there were buyers at some major department stores but when the businesses began making their own craft, sales slowed.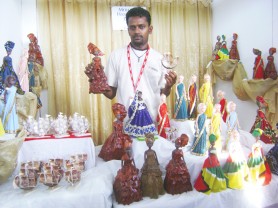 Last year, Mahadeo was convinced to join the Guyana Art and Craft Producers Association and began making her craft again. While business remained "slow," she received exposure at Carifesta and later received funding to exhibit at a trade fair in Barbados. This is her first time exhibiting at Guyexpo. "I couldn't afford to pay the money for the booth so I had to get somebody to share the cost with me," she said. However, she feels that it is worth it and provides an opportunity to expose her craft to potential buyers, get new ideas and improve the quality. "To me, you do not lose," she said.
But as she offers her discounts, there are those who feel that the hours of work that go into the production of the intricate straw craft are worth a lot less. When this reporter was there as Mahadeo offered as much as 20% discount on her prices, one buyer paid less because he did not have any change.
Mahadeo is selling not only her craft but the work of other women from her community and knows that sales mean money in their hands.
"I am doing it for the women in the community… we work together," she explains. The women have their farms that they work on too and currently they do not make craft on a sustained basis.
As the need arises, such as Guyexpo, they begin production. But Mahadeo says they plan to seek other markets particularly in the Caribbean in islands such as Trinidad and Tobago and Barbados.
Around the Web