A 53-year-old seaman who allegedly stabbed his former lover to death may have fled the country to neighbouring French Guiana but almost seven months later his victim's relatives have accepted that they would probably never get justice and if they did it would not bring the woman back.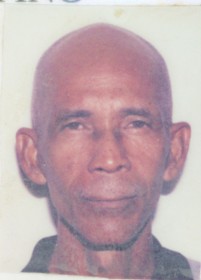 In the meantime, all Savitri Arjune's two children and close relatives are left with is memories, and for them it is an emotional struggle to make it through each day.
Charles Chapman called 'Frenchy' on March 12, is alleged to have stabbed the woman to death as she made her way from her mother's Herstelling, East Bank Demerara home where she had fled, to catch transportation to her workplace in the city.
Months before she had decided to move out after years of physical abuse and threats. This did not go down well with Chapman who repeatedly threatened to kill the woman and harm her children.
The two had lived together in a house obliquely opposite Arjune's mother's house.
Her mother Kumarie Ferdinand was teary eyed during a recent interview with Stabroek News when she spoke of her daughter's death.
According to the grieving woman, since the murder she has heard nothing much and furthermore "me nah interested in he because if they find he, meh can't get she back."
She informed this newspaper that the family had received reports that the man is hiding out in Cayenne, French Guiana. According to her with his experience as a seaman, Chapman would be able to enter that country and any other neighbouring country with ease. On the ships he worked, the man was the chief engineer.
Ferdinand, by that time in tears said that the man had planned the killing carefully in advance and had already made plans to flee the country.
"What de police gon do now especially like how he done gone," she said recounting the few instances when the police came to the house following reports of abuse but left before investigating.
The woman said that her daughter never had a happy life with Chapman as he mistreated her, and when she moved out, it meant she could no longer take it.
She recalled one time when the couple got into a heated argument and Chapman packed up some of the household articles and sent them to his relatives in Berbice.
Another time, he said he took some more household items into the backyard and broke them up before sitting on top of the heap.
There were instances she said where her daughter did not follow advice and on at least two occasions the police sent her away when she went to make reports.
She opined that Chapman might have found another way to kill her daughter even if police had acted on those reports and placed him before the courts.
"He was a very dangerous man," the tearful woman said recounting times when he had thrown Arjune's children with their clothing out of the house.
'Ah gon out ya lamp'
Days before Arjune was killed, her reputed husband saw her on the road and threatened to kill her in the presence of several persons.
"He tell she that he gon out she lamp but we  didn't tek he too serious," Ferdinand said recalling that her daughter tried her best to stay far from the man.
She said too that the man was always in the habit of being on the roadway with a big dagger and would sit at the roadside waiting for her to pass.
She recalled that sometimes he would chase her and at other times her daughter was forced to ask a sister to accompany her to the public road to get transportation.
Following the killing Chapman was never seen again though he had called the woman's home on several occasions. He had also called a furniture store from which he had taken items on hire purchase to have them removed from his home.
He told one of the woman's sisters that "ah mek yall unhappy for life."
Since the incident, Arjune's son has gone to live with his father while her 14-year-old daughter remained with Ferdinand who is finding it financially hard to care for her.
The woman told Stabroek News that she has applied for public assistance but it was not given to her though she is a pensioner.
She said that the children still cry for their mother and would often talk about her. Her son, she said, calls almost every day.
Around 6 am on the tragic day according to reports, Arjune an employee of Roti Plus left her home where she resided with her children and mother.
As she neared the public road, she was confronted by Chapman and stabbed at least three times; one of the wounds was to the heart.
Chapman had earlier parked his minibus on the road, telling the conductor that he was coming back. He then walked into the street where Arjune was. According to reports, the conductor later saw him returning to the vehicle with a bloody knife in his hand.
But when he tried to question him, the man attempted to attack the conductor who ran away and informed the police.
The bus was later found abandoned near the Demerara Harbour Bridge.
Around the Web