A water main in an unoccupied plot of land at Blue Berry Hill, Wismar, which was broken some two years ago, threatens the health of and has become a nuisance to residents given the swampy conditions that exist.
Residents said that when the water main was ruptured about two years ago an attempt was made by a contractor of Guyana Water Inc (GWI) to correct the problem.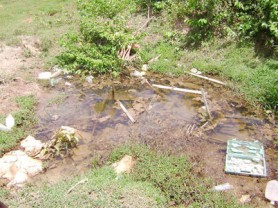 They claimed that a large hole was dug in the area but the work was abandoned because the contractor had said "he can't handle de wuk". 
Several reports were made to the GWI local office since then and as recently as two weeks ago. "Every time me go into them [GWI] they would promise to send a contractor. Two months ago, a contractor [name given] came and just look at the area and never said anything to us, nor has he returned since," related a resident.
Efforts to secure a comment from GWI officials at Linden yesterday proved futile.
According to one resident who lives next door to the swampy area, whenever the water supply is cut off, which is almost every day, the water which would have settled on the land is sucked back into the water main and fed into the system, causing it to flow into their pipes when the water supply returns.
A visit to the area revealed the extent of the situation. At the time water supply to the area was cut off but the area was still swamped. The health risks were obvious as standing nearby posed a challenge with the excessive number of mosquitoes present.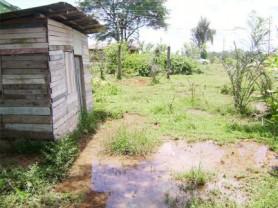 Several persons said they regularly have to chase away from the area children who attend nearby schools. "If you were here when school dismissed you would see what we are talking about," one resident said. "Those little ones would do the usual childish things like playing push-fuh-push. Some of them would throw heavy objects into the water and this would cause the water to splash up on them. That alone would tell you what are the possible risks but I don't know what the real problem is — if it is that the work to fix this main is so technical that GWI can't get a good contractor to fix it."
Another resident said that since the problem he has been finding it difficult to keep his premises free of rodents and other pests while for others the water which constantly flows through their yards has affected their children and livestock.
In addition, they are claiming that the stream has been contributing significantly to erosion in the area.
The plot of land which houses the broken main sits obliquely opposite the Wismar Hospital Mortuary at Blue Berry Hill. A similar problem had existed behind the hospital but it was corrected by the water company.
Around the Web