After journeying through the countries of South and Central America, Ashraf Mohammed Allly has returned home and with "patience and concentration" is making a name for himself in the handicraft business.
At first glance, it does not seem likely that the 61-year-old once traipsed the paths of Brazil, Venezuela, Colombia, Nicaragua, Mexico and Costa Rica, doing varying jobs to survive. He seemed more a stay-at-home type of person. But Ally and some friends were adventurous spirits and had the enviable experience of years spent wandering through South America. They were rolling stones and travelled mostly because they "liked to see places," Ally said.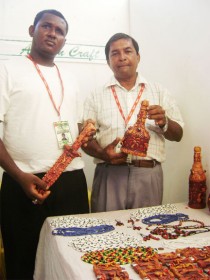 When his friends made the jump to the United States, Ally returned to Costa Rica and "under pressure" began work that he plans to continue for the rest of his life and which saw him exhibiting his products at this year's GuyExpo. Using balata extract mixed with other compounds to make it sturdy, Ally and his nephew are producing pipes, pens, bottles, lighters and other items covered with intricate designs and figurines to give the products a uniqueness that stands out and grabs attention.
Ally recalled that it was out of necessity that he began his craft in Costa Rica. He worked at jobs such as painting, varnishing and furniture making but often his employers did not want to pay and would go to the extent of asking him why he did not return to his country. So with a little stall at a beach he ventured into the business. "We learnt this under pressure," he recalled.  He spent ten years in that country, seven of which were used to perfect his craft.
Last year he returned to Guyana and began making and selling his craft to earn a living and to show his skills. He makes everything by hand and says that it entails "a lot of patience and concentration". He said that most of the items take about three or four days to complete though there are others that take a little less or more time. The items are entirely practical and are adorned with semi-precious stones.
Ally has taken the step to register his business, join the Guyana Art and Craft Producers Association and has managed to find an overseas market. His first experience at GuyExpo has been "very nice" so far he said noting that he and other craftsman sub-let the booth.
The Beterverwagting, East Coast Demerara resident is training his nephew, Colin Nero, in his trade though he admits that the youth knows almost everything already. He adds that it is a family business as other relatives also help out.
It would be safe to say that the traveller has found his niche and has come home to roost.
Around the Web