Newly-appointed head of the Clerical and Commercial Workers Union (CCWU) Ann Anderson says she intends to attract more women into the movement but is pessimistic about trade union unity in Guyana.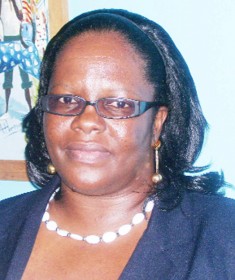 Anderson has taken over from longstanding trade unionist Grantley Culbard who recently retired and is now the first woman to head the union. She was his understudy and is ready to make her mark.
Speaking with Stabroek News from her Quamina Street office on Wednesday, Anderson said she is focused on realizing the CCWU's development. A key objective is expanding the union's organisational drive, targeting non-traditional workers and the self-employed including taxi-drivers, and grouping them so that they can be represented. She believes that workers can be better represented if they unite.
Anderson, a mother of two, also said that as a woman her approach to some issues may be different but she will always have the CCWU and its members' best interest at heart. "I think we need to move to another level and that is to look more into the welfare of people. We need to make people look beyond just seeing trade unions as a group to just negotiate for increase in wages and salaries. I want to be able to have members come in and explain personal problems and assist in some way," she said. The CCWU head observed that there are many simple issues that cause workers a lot of stress and she aims to address these as they affect job performance.
Anderson also said her pet project is to get more women on board. In the past trade unionism was a man's world but since today's world is more gender friendly, "I want to make CCWU an environment where more women would want to be involved and make decisions about what affects their lives," she said. She also acknowledged that much more needed to be done to educate persons about the importance of belonging to a union as there is the prevailing view that sometimes "unions make no sense." In this regard, Anderson is looking to make the necessary arrangements which would allow the unions to talk with school children about trade unionism.
Putting politics behind
Anderson observed that the Guyana government is "perceived" as union-friendly but every effort must be made to show workers this. She said over the years the CCWU has avoided political party affiliation in the interest of workers as it must be able to speak out against wrongdoings. She said it has built its reputation by speaking out.
"We want to be the union that when we speak, we speak on workers' issues not because it is against this government or for the opposition we want to be able to speak …because at the end of the day it is affecting workers, that is what we've been doing and that's what we will continue to do," she declared.
Fractured labour movement
While there continues to be a standoff between the unions in Guyana, which has been attributed to age-old political affiliations and ideologies, Anderson feels that not much effort is being put into fostering trade union unity.
The Federation of Independent Trade Unions of Guyana (FITUG) and the Guyana Trades Union Congress (GTUC) remain divided – starkly highlighted by their separate rallies on May Day. CCWU members belong to both bodies and as such the union saw itself as a bridge in the ongoing divide. In keeping with this, the CCWU would march with the other unions but it also hosts celebrations in its own compound instead of attending either rally. "CCWU was there as the union to bring the two unions back. I am hoping we could get there but to my mind neither of the organizations want that," she said.
However, Anderson is adamant that she would not allow the divide to cripple the CCWU. She said regrettably there may come a time when the CCWU is forced to realize that there is no sense in being on either side but she is hopeful that this is not a decision it would have to make in the long-term. She also reiterated that the members would make the decision. Anderson added that she did not think much effort was being put into unification and as such would not use her energies to fight any issue to bring them together. She said her focus is the growth of the CCWU though if she believes that she could play a major role in unification she would get involved, "But I will not sit there banging my head and hope it will be achieved."
According to Anderson in many countries two trade union movements have worked together for the common good since in unity there is strength. However, she acknowledged that being affiliated with FITUG; the CCWU could be perceived as being affiliated with the current administration though she debunks this notion as one that lies with the local culture. She said in the same light the TUC could be perceived as being linked to the opposition and instead the public should look at the decisions the unions make and judge them by those measures. She also said the union fellowships with its sister unions as it enjoys cordial relations with them.
Anderson said as hard as the CCWU strives to recruit new members; the state of the economy which has caused persons to think carefully about where they put their money; coupled with the lack of education about trade unionism has affected membership. To combat this she hopes to restart a radio programme aimed at educating the public on this issue.
The CCWU is also tackling some financial challenges and as such any sprucing up of their headquarters is not a priority at the moment.  Instead it is considering introducing a computer school to fill the gap of its commercial school which it had closed several years ago.
The union is sustained by its membership dues and even though it has been attracting new members it has lost substantial amounts to migration and privatization.
Anderson has vowed that during her tenure the CCWU would grow and develop but she has also pledged that these things would not come about by sacrificing service to members to do minor things such as beautifying its office. "We are hoping that the service we provide to our members will bring us to that point and very soon," she said.
Anderson joined the union in 1992. She was a branch secretary in 1994 while a worker at Guyana Stores Limited and in 2004 was appointed as an administrative assistant. She is also the vice-chairperson of the International Transport Workers Federation Women's Committee.
Around the Web