The decomposing body of a man was yesterday found in a reservoir at the old pump station on Henry Street, Werk-en-Rust and there was plastic stuffed in his mouth.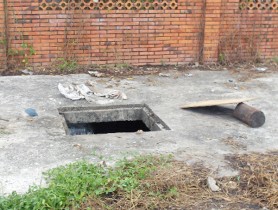 Up to press time last evening the police were still baffled as to the man's identify and how he ended up where he was found.
Stabroek News was told yesterday that a man who went to urinate close to the opening of the reservoir was overcome by a strong stench and on checking made the gruesome discovery.
When Stabroek News arrived on the scene the body had already been removed by undertakers attached to the Lyken's Funeral Home. This newspaper understands that the discovery was made around 12:30 pm and the body removed around 3 pm.
A resident said that while he was out he got a call about the discovery and when he arrived home, he saw the body being pulled from the hole.
Persons in the area said that animals including horses sometimes fall into the hole.
Stabroek News was told that persons would usually frequent the area at night but several said that they believe that the man was killed elsewhere and was dumped in the hole.
Around the Web