The Ministry of Local Government yesterday signed three contracts for the construction of market tarmacs at Enmore, East Coast Demerara, De Willem, West Coast Demerara and Best/Pouderoyen, West Bank Demerara.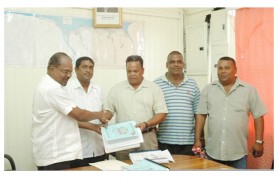 According to a GINA press release, Minister of Local Government and Regional Development, Kellawan Lall noted that there is a need to provide venues for people to sell their produce when they are removed from the roads. He pointed out that the construction of these three tarmacs will be followed by one at Diamond, East Bank Demerara and another at Charity, Region Two since the current market at the latter is inadequate.
Minister Lall said these soon-to-be constructed tarmacs will be under the purview of Local Government laws and are intended to provide people with quality service. He implored the contractors to expedite the works.
The Enmore market tarmac will be built at a cost of $29M. It will measure 4,774 sq. metres and has a contract duration of three months. The De Willem contract has a duration of two months, costs $7.9M and will be 1165 sq. metres. The Best/Pouderoyen tarmac will cost $29.9M, has a duration of three months and a size of 4500 sq. metres.
Around the Web