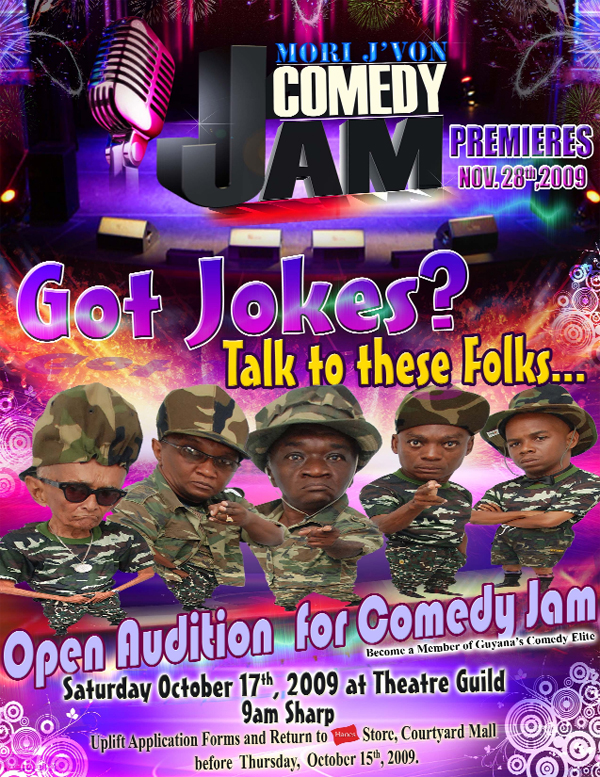 A new local comedy show featuring some of Guyana's best and emerging dramatic and comic talents is expected to hit local airways soon.
The Mori J'von Comedy Jam "will be a combination of stage and TV shows that will take Guyana's comedy to the next level", a release from the organizers says.
According to a press release, the show is the brainchild of Ron Morrison and his wife Olive Gopaul-Morrison. The show will bring together the leading professional comedians – Habeeb Khan, Henry Rodney, Howard Lorrimer, Godfrey Naughton, Linden "Jumbie" Jones, Miranda Austin, Rajan Tiwari, Sherri Ann Dyal, Basil Bradshaw and Michael Ignatius.
Preparation for the show gets underway this Saturday with a special audition at the Theatre Guild that is aimed at finding Guyana's hottest young comedians. The audition is titled "Got Jokes – Talk to these Folks" and it starts at 9 am. The audition will be filmed and portions will be used for the television programmes that will follow.
Persons interested in auditioning can collect applications forms from the Hanes Store, Courtyard Mall on Robb Street and return them by Thursday.
The inaugural show will be at the National Cultural Centre on November 28 and will be a gala evening that will honour the contribution of Habeeb Khan to the local comedy scene.
Around the Web