Seon Solomon, the 29-year-old man who allegedly murdered his father after an argument about a bucket of water, was yesterday remanded to prison when he appear-         ed before Magistrate Yohhannseh Cave at the Sparendaam Magistrate's Court.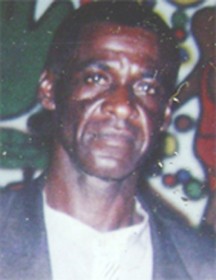 It is alleged that on October 11 at Beterverwagt-ing (BV) East Coast Demerara (ECD), Seon Solomon of 120 Canterbury walk, BV, ECD murdered Clement Petrie also known as Clement Solomon.
The defendant was not required to plead to the indictable charge of murder when it was read to him by the Magistrate.
The unrepresented Solomon was later remanded to prison and ordered to return to court on December 14.
According to initial reports reaching Stabroek News, 57-year-old Clement Solomon allegedly died at the hands of his mentally ill son from an argument which stemmed over a bucket of water. The man allegedly stabbed his father to death shortly after pelting him with bricks.
Solomon of 120 Canterbury Walk, BV, East Coast Demerara succumbed to stab wounds to his chest and neck before arriving at the Georgetown Hospital around 9:40 am where villagers and relatives had taken him.
Police said in a release that Solomon, "a habitual user of narcotics" and his father were involved in an argument over the disappearance of clothing. He became annoyed, armed himself with a knife and attacked his father who tried to escape.
The release stated that the man sustained three stab wounds to his body, two to his upper chest and one to the left rib cage.
One neighbour recalled hearing the two quarrelling over water minutes before the stabbing occurred. This newspaper was told that the community does not have a regular water supply and Solomon was always in the habit of using out the water that was being stored without filling it back.
Around 9 am yesterday, the son filled water from a drum and his father told him not to use it. This apparently angered the son and there was an argument during which Petrie told him that he had to leave the home by afternoon.
Petrie then left the yard heading in the direction of the roadway.
Neighbours said that they saw Solomon pelting his father with bricks and he fell on the roadway shortly after. The young man then began stabbing his father with a knife he had in his possession but despite his injuries the man managed to walk calmly through several nearby yards before collapsing near a water tank in his cousins' yard.
This newspaper was told by several relatives that Solomon was only released from jail about two months ago after he had served a three-year sentence for chopping a man on his forehead.
After his release the young man had nowhere to go and despite his history, his father allowed him to stay in the upper flat of his two- storey home, while he resided in the ground flat with his wife, Lavern Daw and their children.
Around the Web