Two bikes went missing from home
The decomposing body discovered in the old pump station reservoir at Henry Street on Monday has been identified as that of 23-year-old Hassan Muhammad Ali Hussein.
Hussein, of Lot 345 Cummings Street, Albert-town, Georgetown, was discovered at about 12.30 pm with plastic stuffed in his mouth and up to yesterday afternoon police were still baffled about how the man's body ended up there.
The man was identified by his older brother Muneshwar Narine yesterday at the Lyken's Funeral Parlour. Narine told this newspaper yesterday that he saw the article and photo of what appeared to be his brother's body in the Kaieteur News and started to make enquiries. He was horrified when, in the presence of police, he confirmed that the body was Hussein's.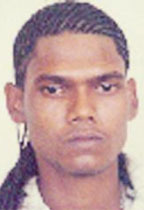 Stabroek News was told on Monday that persons would usually frequent the Henry Street area at night but several persons said that they believe the man was killed elsewhere and was dumped in the hole. It wasn't until the foul smell of decay began emanating from the body that a man discovered it.
Hussein lived with his parents Abid Hussein and Gomattie Narine on Cummings Street. His parents reported that they had last seen him sometime around 8pm last Friday.
The man, according to them, had previously been away from home two nights at time but they would usually hear from him.
"We are suspecting that it is definitely foul play," Abid Hussein said speaking on behalf of his family. "Hassan didn't have a problem with anyone and I don't know who would have done this to him."
The elder Hussein explained that before they retired to bed last Friday night he'd spoken to his son and reminded him to lock up the house properly. Gomattie Narine told this newspaper that the last thing she told her son was that she'd bought some food and he should eat.
"We didn't see or speak to Hassan after that," his father reported. "It wasn't until about 4 o'clock Saturday morning when his mother get up she said she didn't see him and we later discovered that my bicycle and his bicycle were not in the yard."
Abid Hussein said that they'd initially assumed that the young man and one of his friends had taken the bicycles out. However, by Saturday afternoon when they'd heard nothing from Hussein his mother went to the Alberttown Police Station and made a report.
"Police there said that they would look into the matter and keep us informed," the distressed father said.
However, before the family could get any feedback from the police they discovered for themselves what had happened to Hussein, a carpenter. The man, according to relatives, usually hung out with his friends at home or around the Alberttown area and as far as they could tell he did not know anyone around the Henry Street area.
"I can't tell you if he had a girlfriend," the elder Hussein said, "because he never told us anything about that and he never brought any girl home to meet us."
Gomattie Narine, trying to control her weeping, explained that her son didn't have a cellular phone of his own and would normally use the one that belonged to her. However, that night he left without a phone and, according to the woman, he wouldn't have had anything of great value on him.
Hussein is the second son to die for his parents in less than two months. An older brother, his father explained, passed away almost six weeks ago of "natural causes". Abid Hussein and his family are hoping that police will be able to discover what happened to the young man.
"Right now we are all in shock because we just don't know what could've happened," Abid Hussein told this newspaper. "All we can do now is wait and see what the police can tell us."
Police, up to late yesterday afternoon, had not issued a statement concerning Hussein's death. The man's father pointed out that neither of the bicycles has been found. He believes that wherever the bicycles are located there will be some clue as to what happened to Hussein.
Around the Web