A 59-year-old machine operator at a mine in Mahdia died on Monday after an accident on the worksite. Dead is Leon Clarke of Hopetown Village, West Coast Berbice.
According to a police press release, the man was operating a hymac in a forty feet deep pit when it caved in and covered him.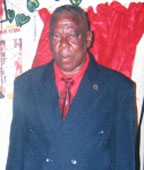 The man's wife Sheila Clarke said that her husband has been working as an excavator operator for the last two years for a company at Mahdia. He left home in August to return to the work site and was scheduled to return home in December to spend Christmas with his family. The couple has six children.
According to the woman, employees at the site told her that while her husband was operating the excavator two rocks fell on him. The first he was able to move away with the excavator, she said.  Shortly after a second rock fell and pinned him to the machine. The woman said that the employees told her that they were forced to push the rock off him.
The man's wife said that her partner was a good husband and father and that they shared a special bond.  She said that they were planning to build a new home together and were to give their old home to their children.
The man's body is at the Lyken Funeral Home awaiting a post-mortem examination.
Around the Web